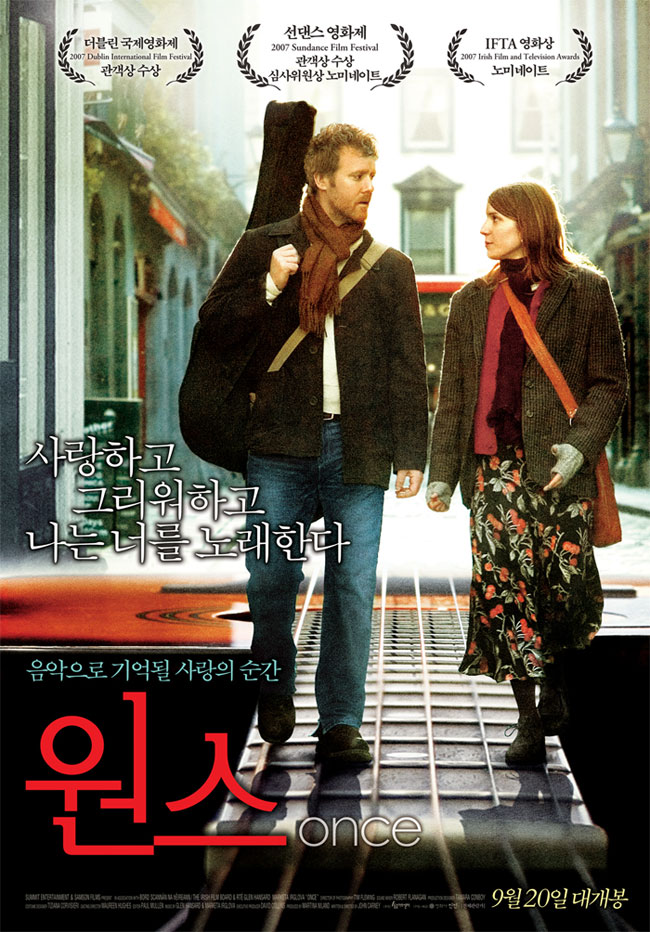 ● Director: John Carney
● Genre: Drama & Romance
● Starring: Glen Hansard, Marketa Irglova etc.
● Running Time: 86 minutes
 These days, interest in music movies continues to rise continuously. Among them, I would like to introduce one of the most famous musical films, Once. It is a movie that depicts the process of a male and a female meeting each other by chance and making music together.
 There are only two practical characters in the film. The man who sings day and night on the streets and the woman who sells flowers. What's interesting is that the names of two main characters in the film are unknown to the end. Even in the movie credit, both male and female are represented as guy and girl. Like this, the characters in this movie were so realistic, and sometimes tough and sometimes weak.
 But one day, a woman walks up to the man and they sing together. Through music, they have shared emotional interaction at last. They become closer to music by presenting their deep emotions ,soothing their loneliness, and comforting with each other. Another notable feature of this film is its unique atmosphere. The old and rugged guitar sounds of the male character and unrefined atmosphere allow to feel the Irish winter.
  Not only it won worldwide fame but also the big hit of independent movies in Korea, so it will be re-released this winter. I hope that readers who read this article become more interested in the movie because it goes well with the winter and makes a lot of sense.