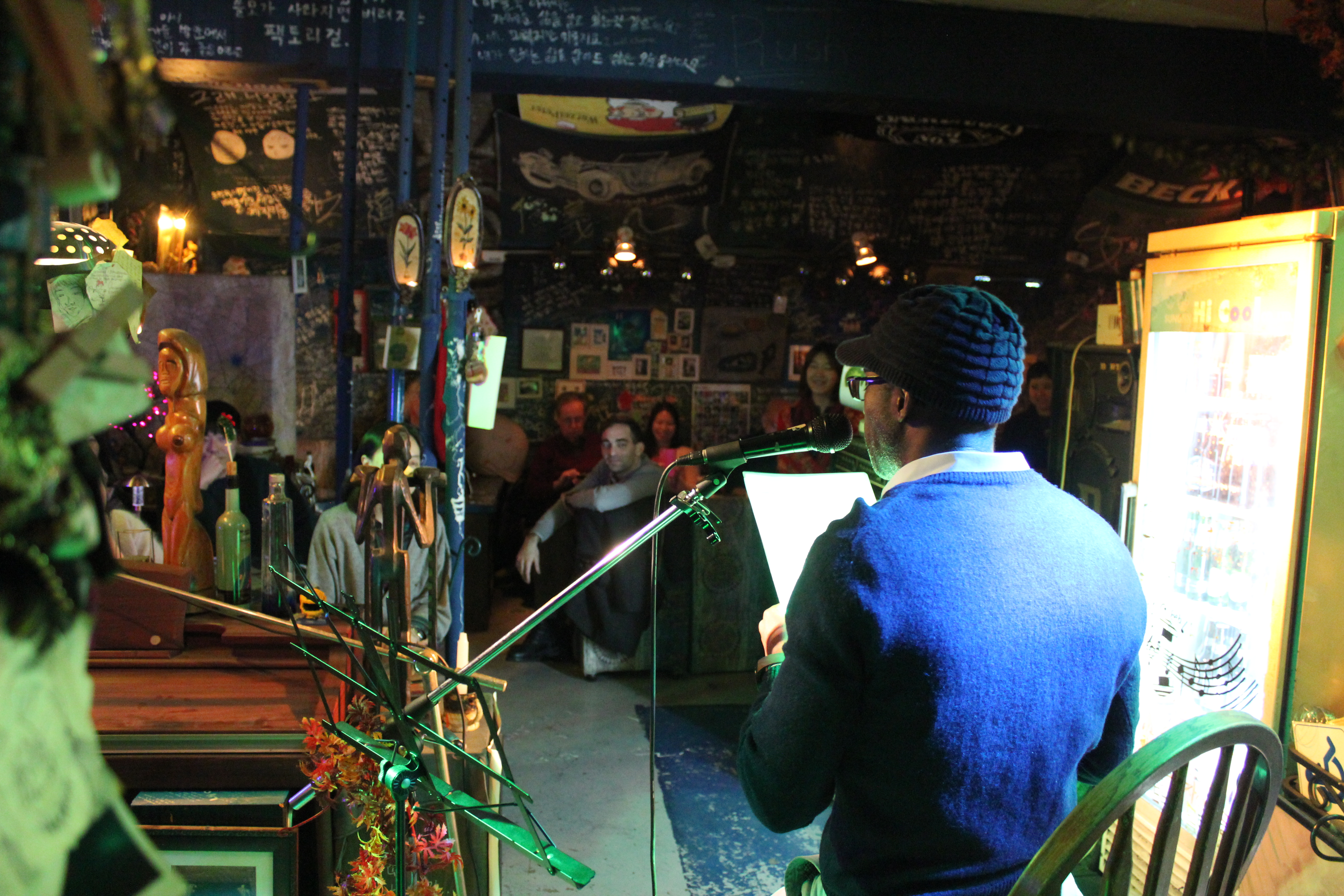 Have you ever heard about Shi-bang Rock? Shi-bang Rock is a gathering of people who want to share their impressive poems and strong phrases. Shi-bang Rock's location is on a street close to KMU's East Gate. We would like to introduce Shi-bang Rock, a gathering that shares poem, music and heart for KMU students.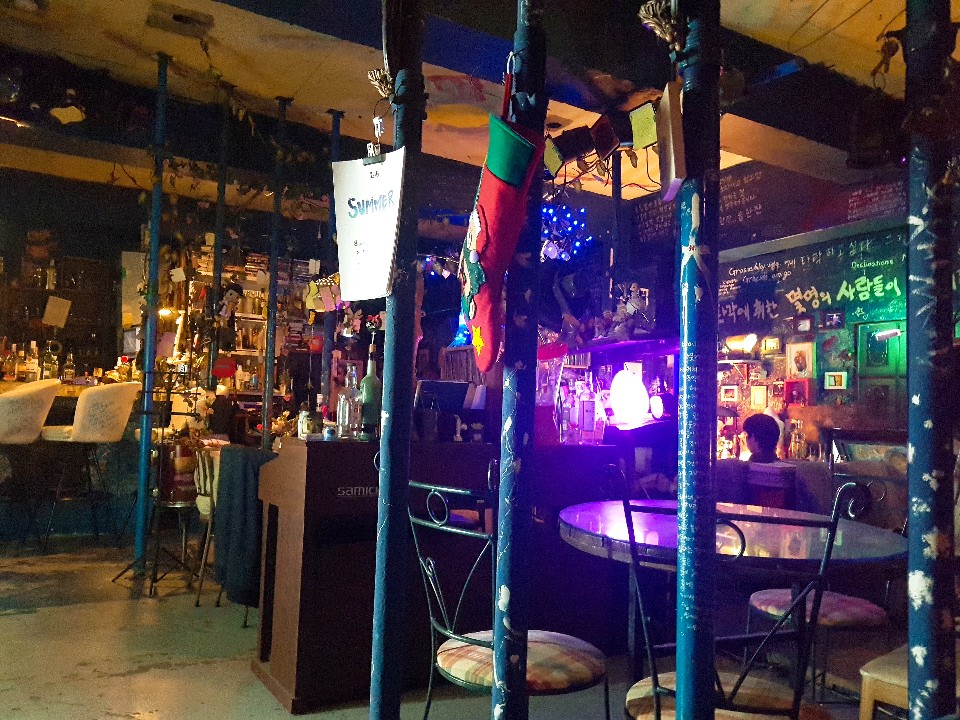 ● Motive of Making Shi-bang Rock
This gathering started due a plan by Daniel Parker, Professor of English at KMU, and translator Ji Yeong-sil. The direct motive was due to the ambience of Haneul book cafe, which is the place for gathering. The Haneul book cafe has a habitual ambience which far to seek in Korea. Because of free and cozy place where music flows, they regular customers began to think that using such a good place to communicate with people. So, they make a gathering for people to express themselves freely and they chose music and poems as the elements of communication. By joining those elements, Shi-bang Rock become a complete gathering. Shi-bang Rock begin in earnest last September. In the beginning, they pursued using students from Creative Writing at KMU or KMU foreign students mainly so that they can express their cultural creativity. But now, anyone who likes poems and wants to share them can get together at this gathering.
● Meaning of the Name, Shi-bang Rock
The name of gathering, Shi-bang Rock has two meanings. First, it is a place of poem and music. The literal translation of 'Shi-bang' is place of poem; and 'Rock' means rock music which can heard at the gathering place. Second, the meaning is 'Let's enjoy ourselves now'. 'Shi-bang' has another meaning in Korean. It means 'now'. Also,, 'Rock' has another meaning in Korean: 'Let's enjoy'. So, if you mix these two words, Shi-bang and Rock and their various meanings, the name is like a play on words.
● Activities
Shi-bang Rock's main activity is sharing poems. You also can share any literary sentences or good phrases you want. Shi-bang Rock was originally planned to share Korean poems, but now foreign students who can't speak Korean well can also read poems in their own language if they want to join this gathering. In addition, people can enjoy performances there, too. Two teams make music performances in total. Translator Ji Yeong-sil performa regularly, and the rest of the team also changes each time. People who join Shi-bang Rock only need to enjoy performances and share poems with each other.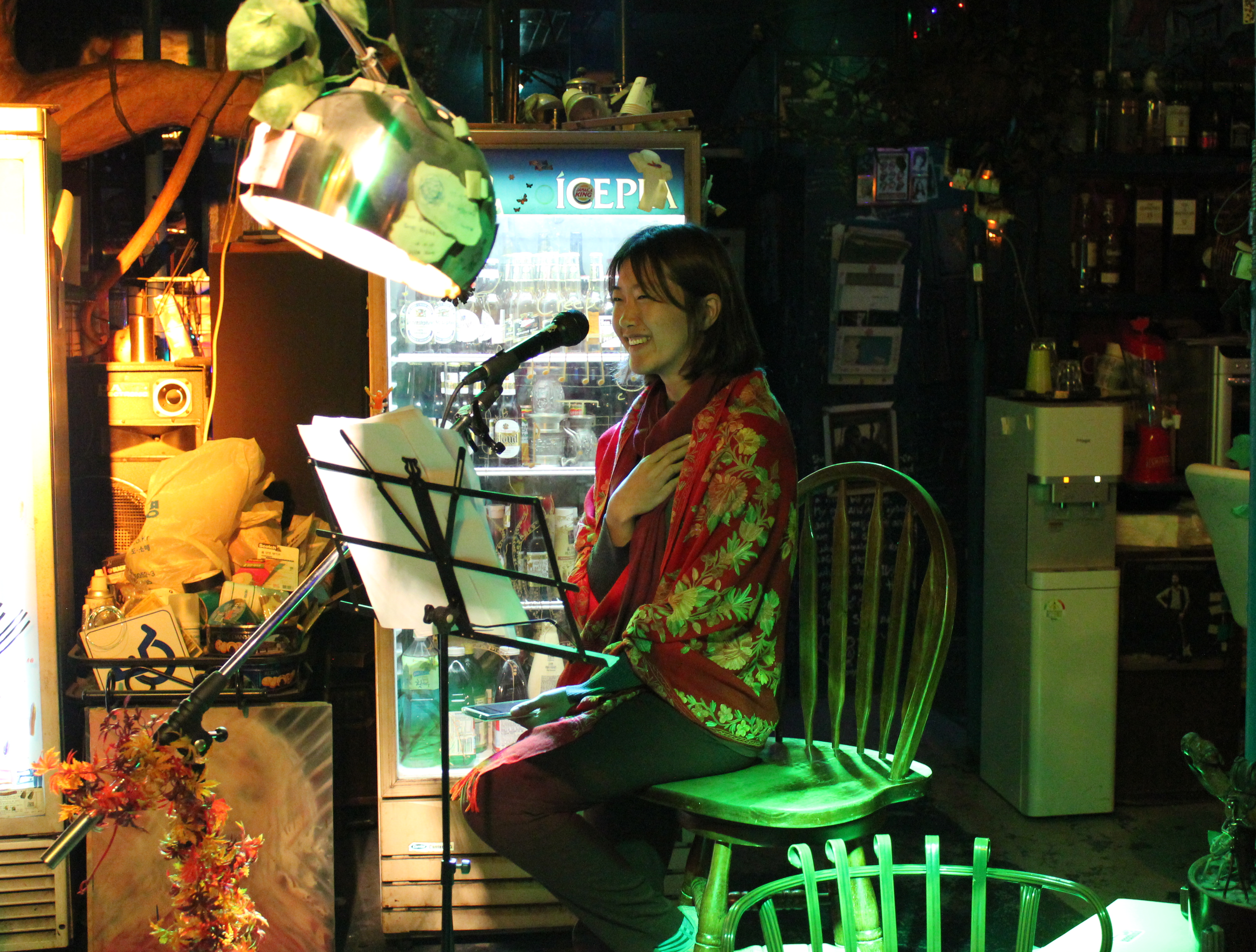 ● Tak Hye-kyung
We had an interview with Hye-kyung from Shi-bang Rock to learn more about this get together.
Q1. Please introduce yourself.
I'm Tak Hye-kyung, and my English name is Helen Tak. I'm a traveler and graduate of Keimyung University. I travel around countries and write essays about traveling. I have participated in this meeting since October 2016.
Q2. What inspired you to participate in Shi-bang Rock?
I had visited many countries as a traveler. What I felt while traveling around was that there were a lot of places for people to meet in foreign countries, unlike Korea. In those places, at those moments, people communicated with each other through activities: dancing, singing etc. I thought there are no places for these activities in Korea. I wanted to participate in these activities in Korea, then found Shi-bang Rock, and decided to join. Furthermore, my boyfriend, Christian, also takes part in this meeting. Christian is from Germany and has participated in many activities similar to the Shi-bang Rock activities in their country. With that, he is joining this meeting. It is good to be in this group with my boyfriend.
Q3. What were the most meaningful things during the Shi-bang Rock activities?
Students from Creative Writing have participated in Shi-bang Rock. A student had written poems and essays and submitted them to a magazine. However, the writings were not accepted and he thought he had no talent and was not appreciated. So, when he came to Shi-bang Rock, his voice trembled and he couldn't speak. I approached him myself and hugged him. At that time, people listened to the student's voice more and more, and he was able read his poems through to the end. Since that episode, I felt that Shi-bang Rock is was not merely an activity to read poems, but a place to share with one another.
Q4. What do you want to say to people who want to join Shi-bang Rock?
In this meeting, many KMU foreign professors take part. Therefore, we usually communicate in English. So, people might think that they should be good at English to participate in Shi-bang Rock; but they don't need to. Since Shi-bang Rock activity is intended to read poems in Korean, it doesn't matter if people can't speak in English. And, if you have the desire to express yourself and communicate with each other through this meeting, you can read not only poems, but also a variety of genres such as novels, essays, and other genres. If you participate in this meeting, I hope you will participate with an open mind.
Shi-bang Rock will be held at the Haneul Book near Keimyung University East Gate. If you want to read your favorite poem, read a passage from a novel, and communicate with many people, I recommend that you join the Shi-bang Rock event. People in Shi-bang rock always welcome everybody.
Lee Ji-min KMG Editor in chief
Na Ye-bing KMG Reporter
wlals5597@kmu.ac.kr
seranare@kmu.ac.kr