Gazette Links

Many of us would love to go on a trip far away and take a rest when we feel distressed from daily life. However, realistically, this is not easy for university students during the semester. Now, one month after the opening semester, I think there are many people who feel tired from many lectures and need a rest. To get over the stress and fatigue from these lectures, there is a great place in Daegu named Ganjeongbo where you can get enough rest and it is located near Keimyung University. So, this time I would like to introduce a trip course at Gangjeongbo to heal yourself without taking up a lot of your time.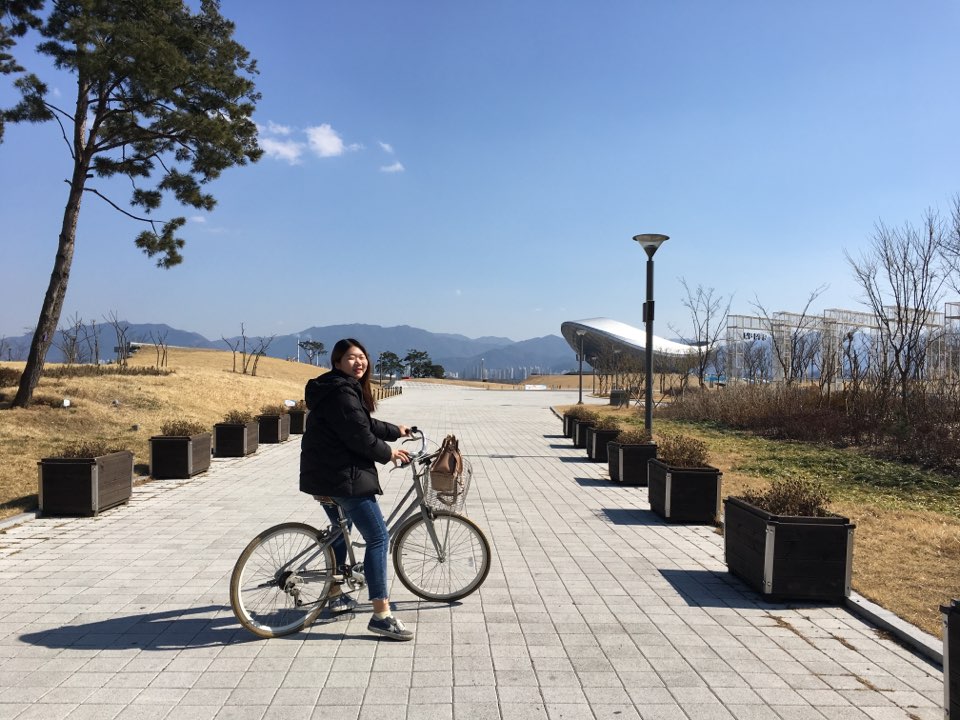 Activity

On the way to Gangjeongbo, you can see a place that rents various vehicles, bicycles, segways, motor kick boards, and other types of transportation. In this area, people often look around Gangjeongbo by walking or riding a vehicle.
You can borrow a bicycle for 4000 won per hour, a wangbaltong or an electric kick board for 15000 won per hour. There is also a place which lends bicycles for free in Daesil Subway Station. The borowing time is from 6 A.M.~8 P.M, and when you borrow it, you will need identification. I recommend using the free bicycle when you go to the Gangjeongbo by subway.
Also popular are wangbaltong which is similar to a segway. Before riding the wangbaltong, you should wear a safety helmet and knee pads and listen to a safety education lecture. It is a little scary at first, however, it is a lot of fun as it is very fast and smooth!
Moreover, there are also duck boats, a cruise ship, and places which you can experience water sports. A duck boat is a pedal boat, and its rental cost is 12000 won per hour for two people. The cruise ship's price is different on weekdays and the weekend: the weekday price is 8000 won per adult, and the weekend price is 10000 won. It takes about an hour. The Cruise ship runs 1 P.M.~6 P.M on weekdays. On the weekend, it runs 12 P.M.~7 P.M. Also, there is a swift ship which takes 25 minutes. Its price is 6000 won per adult on weekdays and 8000 won on the weekend. The swift ship runs 12 P.M~5 P.M on weekdays, and 12 P.M~7 P.M on the weekend.
Although all activities have time limits, if you move on time you won't feel fatigued and can go comfortably.

Gangjeongbo Sky park

Sky Park is one of the best restaurant at The Arc! You can eat foods while looking around at good landscapes in a good mood. The way to go to Sky Park is to go out from The Arc, turn left and go a little; here you will see a four-storeyed building. The fourth floor of the building is Sky Park. This place is a restaurant-cafe so you can eat both food and dessert in one place. After eating, when you order a beverage, you will get a discount the beverage only the weekday lunch. Most of the food is western food, pasta, pilaf and steak etc, and the price is similar to other restaurants. When you look at the menu, the recommended dishes are signed with a star in front of the food name. Visitors can order at the counter and water is self-serve. The waiting time is very long. There is a terrace outdoors, and I recommend eating there when the weather is good.

The ARC

The last course is The ARC which is a special place in Gangjeongbo. When you enter Gangjeongbo, you will see a unique building, The River Cultural Center, also called The ARC. The ARC means structure and art for all of the river cultures and geometric approaches of earth.
The ARC's hours of operation are 10 A.M~6 P.M on both weekdays and weekends, as well as holidays. Please note though, The ARC is closed every Monday and January 1st so I would advise planning around these days.
The ARC building has a total of 4 floors: three-floors and a basement. The basement floor is comprised of an exhibition space and art gallery. The exhibition hall is separated into five areas. The 'River and People' area provides people's history and sensitive stories about the associated rivers, and the 'River and Literature' area provides poems and novels about river life. Also, people can enjoy music and art about rivers in the 'River and Music' and 'River and Art' areas. Last, there is a 'River Playground' area. Here, people can experience firsthand a river-themed play. In addition, people can appreciate several art works in the art gallery.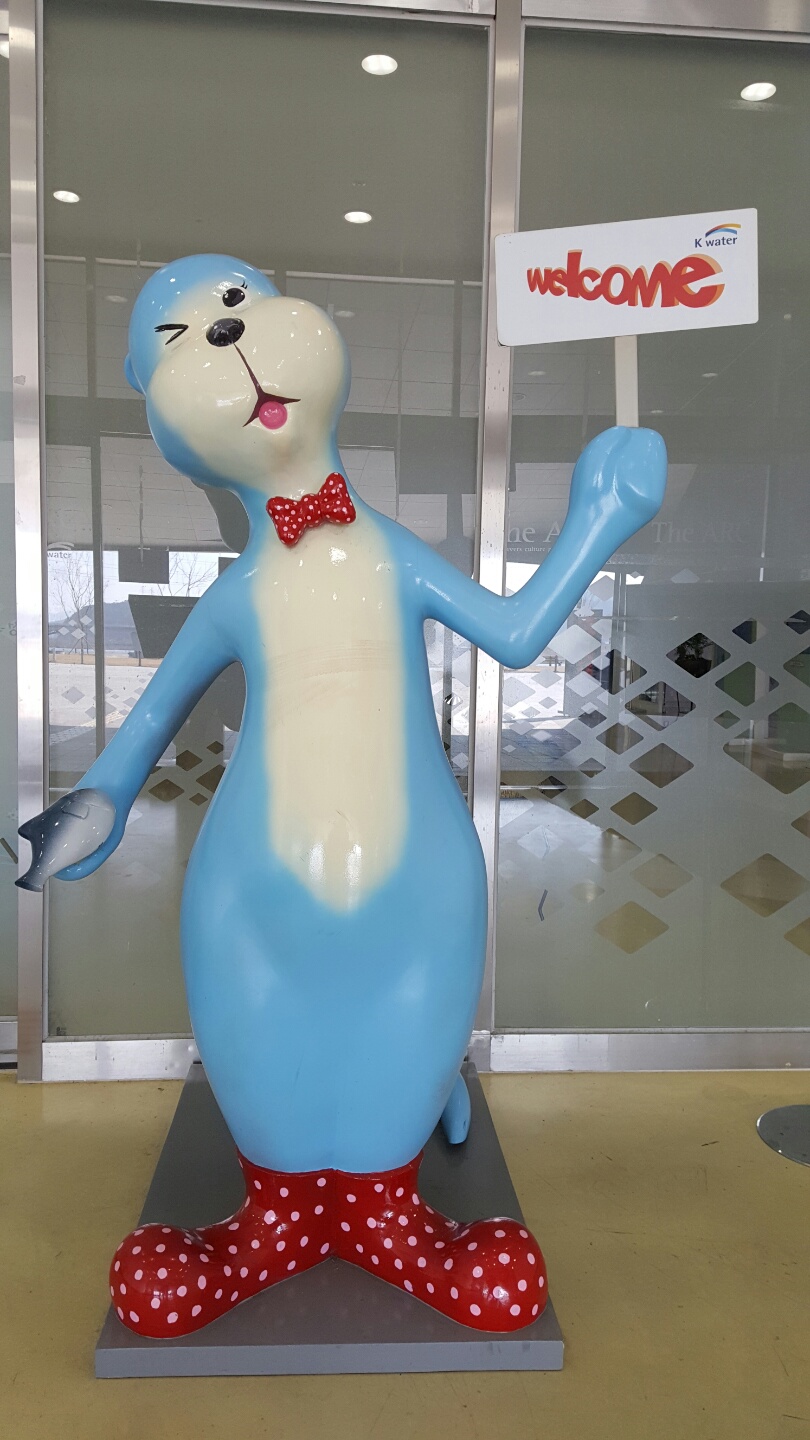 The first and second floor are comprised of a theater. You can see a water-themed circle video and grand scale panorama IMAX video here. This video shows the preciousness of the water and river and saintliness with beautiful symbolical imagery.
The third floor contains a cafe and an observatory. When you arrive on the third floor, you can see a cafe. There are many types of drinks and they are large; so you can take a good rest here, and there is also a glass door connected to the observation platform. In the observation platform, you can look down on Gangjeongbo in a glance.

Gangjeongbo is located very close to Keimyung University, so you can get there in just 5 minutes by taxi. The area is suitable to take a rest and make you feel comfortable because of the rolling clear river water and trails along the river which people can walk and ride a bike.
So, when you want to heal yourself, go to Gangjeongbo and take a walk along the riverside trail. It will be the best idea for those who are tired of their daily grind.
게시물에 대한 문의사항은
이메일[kmup@kmu.ac.kr]을 통해 문의 해 주시기 바랍니다.
International Corner
Let's go on a visit