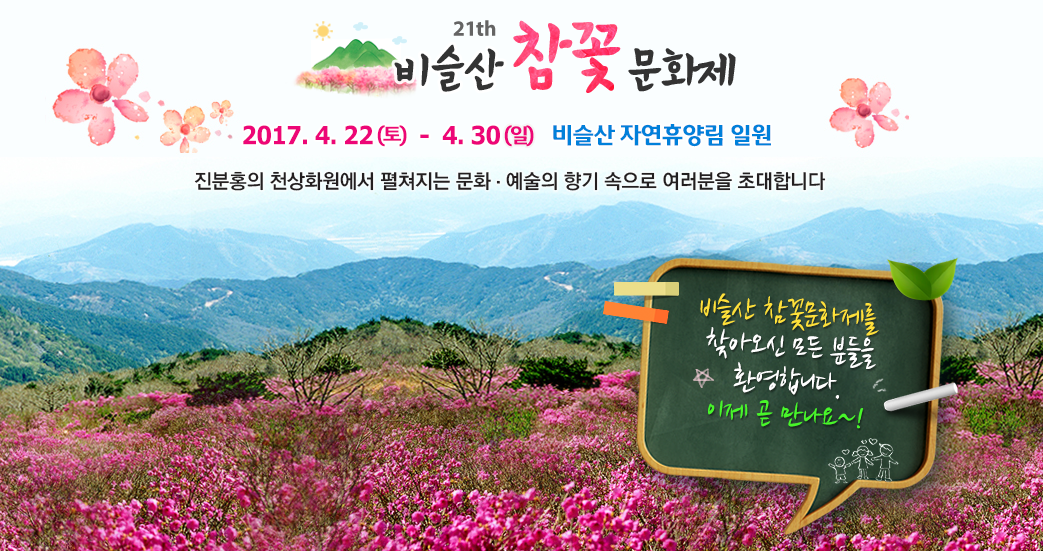 Location : Biseul Mountain national recreation forest whole area
Address : 230, Hyuyangnim-ro, Yuga-Myeon, Dalseong-Gun, Daegu
Date : 2017.04.22. (Sat.) ~ 2017.04.30. (Sun.)
Do you like hiking? If so, I want you to introduce one of the spring festivals on the top of Biseul Mountain natural recreation forest in Daegu. Every year around April, the azalea habitat covers almost 990,000 m² near the peak of Biseul Mountain, and is a magnificent view.
Many people have participated in the Biseul Mountain Azalea Festival, about 100000 in the whole country. You can enjoy many events including the chamkkot (azalea) song festival with Song Hae. There are other events such as the chamkkot shooting zone, Biseul mountain roulette zone, chamkkot flower rice pancake, and walking the chamkkot road. There is a Biseulsan Firefly Electric Car, so you can easily get to the habitat. Also, you can experience Buddhist culture as there are traditional temples and historical relics throughout the mountain.
This festival will held in Daegu, and if you want to participate in the festival, you can do so at any time during the festival period. If you would like more information visit the official web page
at: http://www.biseul.kr
or call 053-659-4292.