Gazette Links
Exploring Korean History in Yongsan, Seoul

Lee Ji-min, dodoji93@kmu.ac.kr

등록일: 2017-02-28 오후 5:50:15
There is no future for people who forget history; history is important. In Yongsan, Seoul, there are many meaningful places related to Korean history. Therefore, the Gazette chose the National Museum of Korea, the War Memorial of Korea, and Haebangchon to learn more about Korean history.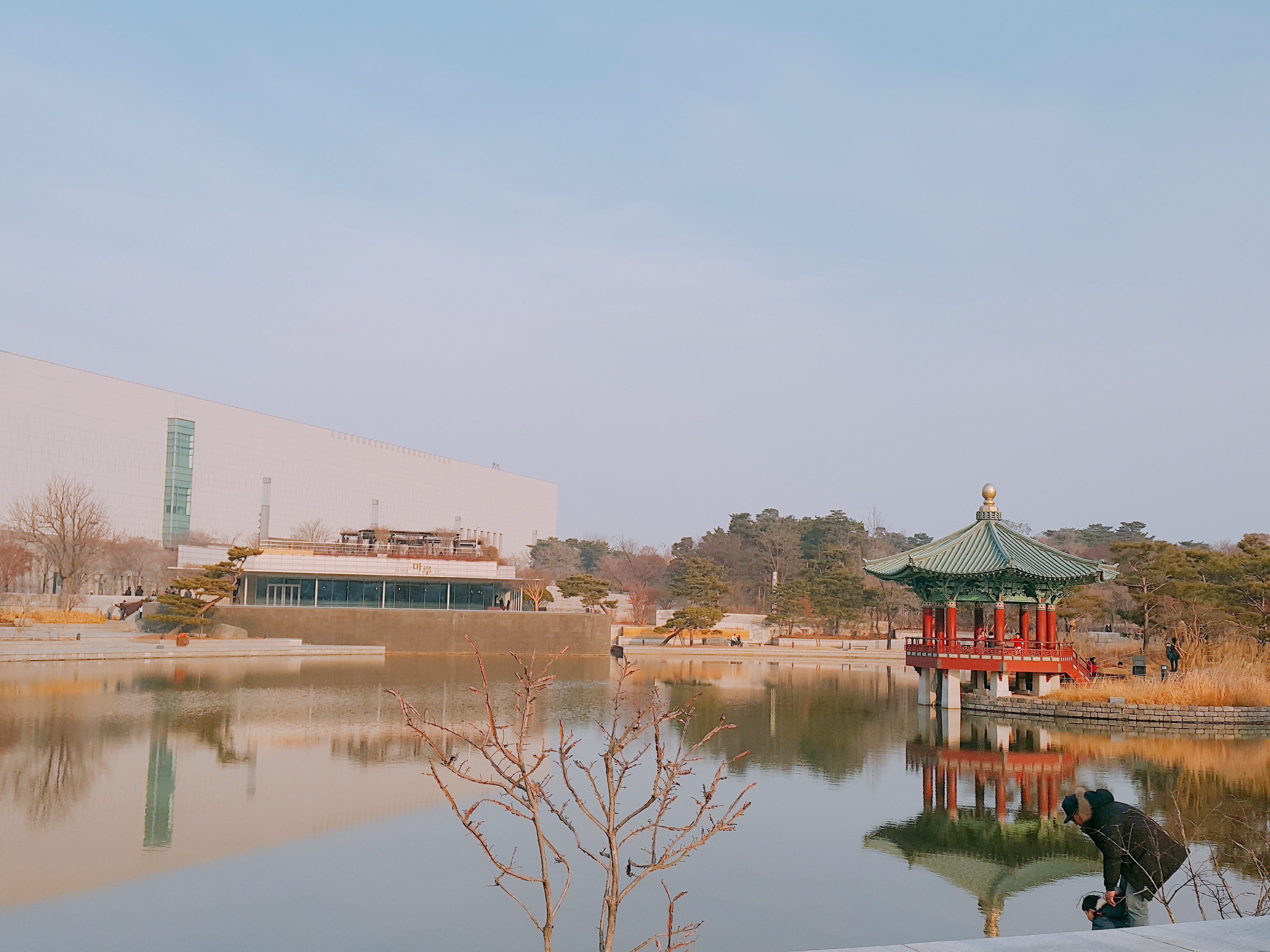 ● National Museum of Korea
The first tour course in Yongsan is the National Museum of Korea. Opening hours are 9 A.M.~6 P.M. on Tuesday, Thursday, and Friday, 9 A.M.~9 P.M. on Wednesday and Saturday, and 9 A.M.~7 P.M. on Sunday and holidays. The National Museum of Korea consists of six permanent exhibitions, a special exhibition gallery, and a children's museum. Entering the permanent exhibitions and children's museum is free of charge, however, the special exhibition gallery has a fee.
On the first floor of the museum, you can see relics which represent the periods from prehistoric age to modern age. Also, in the main corridor, there is a wondrous ten-story pagoda from Gyeongcheonsa Temple site standing tall. On the second floor, there are wonderful donated works, calligraphies, and paintings. In here, you can fall into various cultures of home and abroad and enjoy beautiful traditional Korean culture. On the third floor, there are Asian arts, sculptures, and crafts. Also on the third floor, you can figure out characteristics of each Asian art and be attracted by Korean Buddhist sculptures and various other craft cultures.
This museum regularly offers guided tours for foreigners in English, Japanese, and Chinese. Also, an Egyptian treasure exhibition will be held at the special exhibition gallery by April 9, 2017 viewing this exhibition might be an interesting experience. If you want to know about Korean history, relics, and other countries' culture, I recommend you to visit this museum.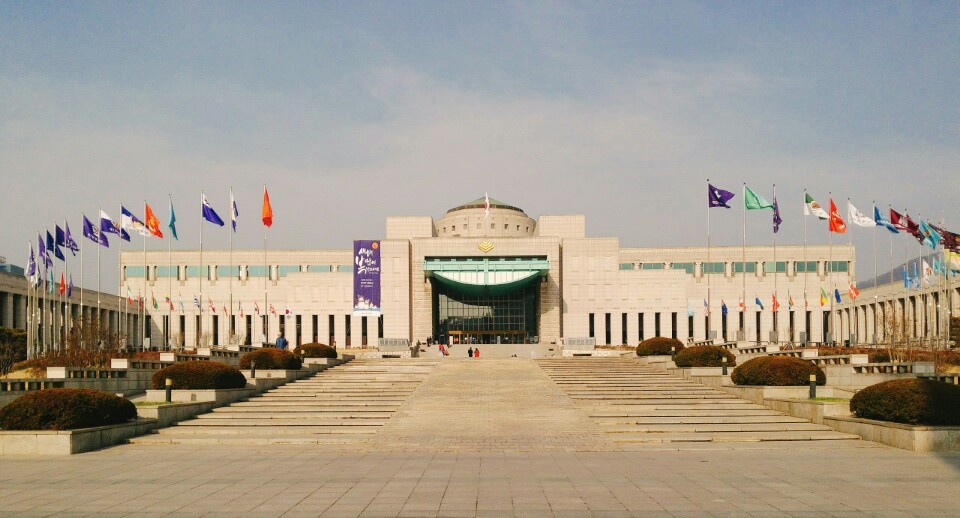 ● The War Memorial of Korea
There were many wars like the Korean War in Korea. There is a place where you can take a look at many wars. It is the War Memorial of Korea exhibits the history of Korea. Therefore, visitors can learn about war history at the museum. When visitors first enter the museum, they can see a big sculpture to celebrate the 50th anniversary of Korean War in front of the museum. The statue was constructed to commemorate the pain of the Korean War and to honor the war veterans. In addition, inside the museum is a noble atmosphere honoring the ancestors.
The museum consists of 7 indoor exhibits, including the Memorial Hall, The War History Room, The Korean War Rooms, The Expeditionary Forces Room, The ROK Armed Forces Room, and the Exhibition Hall of Donated Relics, and Children's Museum-as well as outdoor exhibition spaces for large equipment.
The Memorial Hall pays respect to the patriotic forefathers who devoted and sacrificed their life for their fatherland. There are many candles and writings on the wall: they are the true heroes of the Republic of Korea who gave their lives for the peace of the homeland. In addition, the War History Room exhibits Korean war history and military equipment. Each exhibit hall exhibits a holdover from the war and reproduces some pictures during the war.
Furthermore, there are 4D experience halls and photo zones so visitors can experience the Battle of Inchon and take commemorative photographs. In 2017, there is a free Turtle Ship making program for foreigners. If you want more information, visit www.warmemo.or.kr

● Haebangchon
The way to the Haebangchon is to take Yongsan Bus 3 at the War Memorial of Korea and go for three stops. Haebangchon was opened when the brethren who came from North Korea converged on this place. This village is part of the district of Yongsan, and it was the area where the Japanese military firing range was located during the Japanese Colonial Period. After the liberation, the U.S Military Manpower Administration occupied the area. It is the history of Haebangchon. With the launch of the 2012 art village project, murals and sculptures were installed in Haebangchon. There are 108 stairs and many murals on the wall. It is a good place to take picture. In addition, when visitors reach the hilltop of Haebangchon, they can see in one glance the whole area of the city and take a closer look at the N Seoul Tower. If you want to tour Haebangchon more comfortably, Yongsan 02 buses are good as you are able to see many places while you are riding the bus that you can't see while walking. It is nice to see the murals and the sculptures of Haebangchon, however, it would be more meaningful if you know the meaning of Haebangchon.

● Restaurant Recommendation
When you walk along Haebangchon, you can see many restaurants. Among them, I recommend a restaurant called "S' Take." This restaurant is open 12 P.M.~9 P.M. with a break time at 3 P.M.~5:30 P.M., and on Wednesdays the restaurant is closed. It serves very delicious handmade hamburg steak. There are five kinds of steaks, S' Take hamburg steak, cheese hamburg steak, curry hamburg steak, wasabi hamburg steak, and shrimp hamburg steak. It also serves pasta and fried rice, so you can enjoy various kinds of foods.
When a steak is served, it is served in a cute frying pan-shaped plate with rice, an egg, green bean sprouts, potato wedges, and sauce. These ingredients match each other well. When you eat the steak with sauce and green bean sprouts, you will be amazed at the explosion of flavor! The inside of the restaurant is little small, but the interior is clean and the atmosphere is good, so it's a good place to take a picture. There is a table and a chair on the outside too, so you can eat outside on a sunny day watching the scenery and people passing by. If you are hungry while walking along Haebangchon, I recommend you to eat a hamburg steak at here.

If you want to know about Korean culture and history in more detail, I recommend you to visit Yongsan in Seoul and visit places along this trip courses. The national museum of Korea, war memorial, and Haebangchon are all located close to one another. And, do not forget, entrance fee is all free, so you can enjoy an affordable trip.



By Lee Jimin, Choi Eun-gyu
KMG Editor-in-chief, KMG Editor
wlals5597@kmu.ac.kr
eungyu410@kmu.ac.kr
Lee Ji-min의 전체기사보기
< Copyright 2006 gokmu.com / The Keimyung Gazette. All rights reserved.>
게시물에 대한 문의사항은
이메일[kmup@kmu.ac.kr]을 통해 문의 해 주시기 바랍니다.
International Corner
Let's go on a visit