It's March and the new semester has begun. The returning students have been joined by a new group of freshmen and exchange students on campus. This spring there are about 4,600 new freshmen and 60 new exchange students at Keimyung. The new students are curious about campus life but not familiar with Keimyung and all the different places on campus. To help the new students, here is an introduction to some of the places on campus.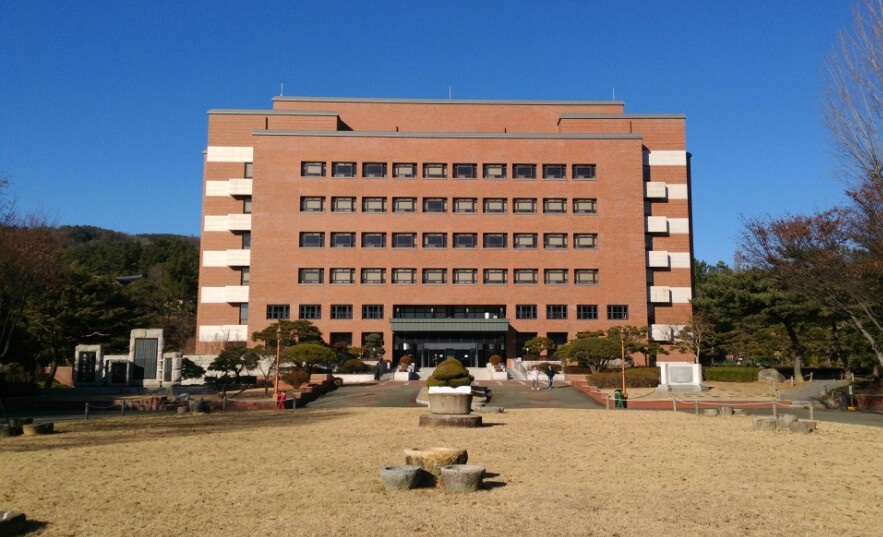 ●Dongsan Library
The first place is Dongsan Library. Students can see Dongsan Library when they enter the main gate of Keimyung University as it faces the main gate. It is tall, brown, brick building with seven floors. Most students usually go to the first to fifth floors in the library because the general reading room, materials room, information service center, and group study rooms are located on those floors. If you want to enter the library, you should have a student ID card. If you don't have an ID card, you can download the app Clicker and log in with it.
The general reading room is located on the first floor, which is where students usually study during exam periods. After students reserve seats through the library reservation system, they can study. However, students are limited to four hours. If students want to study more, they must use the reservation system to extend their time. In addition, students should check out through the reservation system when they leave the general reading room, so other students know there are desks available. If students break this rule, they may get penalized.
The materials room is located on the fourth and fifth floors. That area has the main collection of books that students can borrow to read for pleasure or for classes. If they don't know where to find the books they are looking for, they can ask a librarian or search a computer.
The information service center is located on the second and third floors. It has many computers, so many students come here to use computers to do school work. There are applications students can use to make presentations, write reports and edit images with Photoshop. However, students must not download illegal programs, and they should only use computers for educational process. There is also a 4-hour time limit. In addition, there is a media corner where students can watch DVDs they borrow from the library.
The group study rooms are located in several places on the first, fourth and fifth floors. Students usually use these rooms when they prepare group presentations. If students want to use one of these rooms, they must reserve the room first. Students should only keep the room for the allotted time and clean it before they leave.
The library is a great resource for new and old students alike. If you need a quiet place to study, a computer to use for homework, or a group study room to prepare a presentation, Dongsan Library has what you need. There's even a coffee shop in the basement.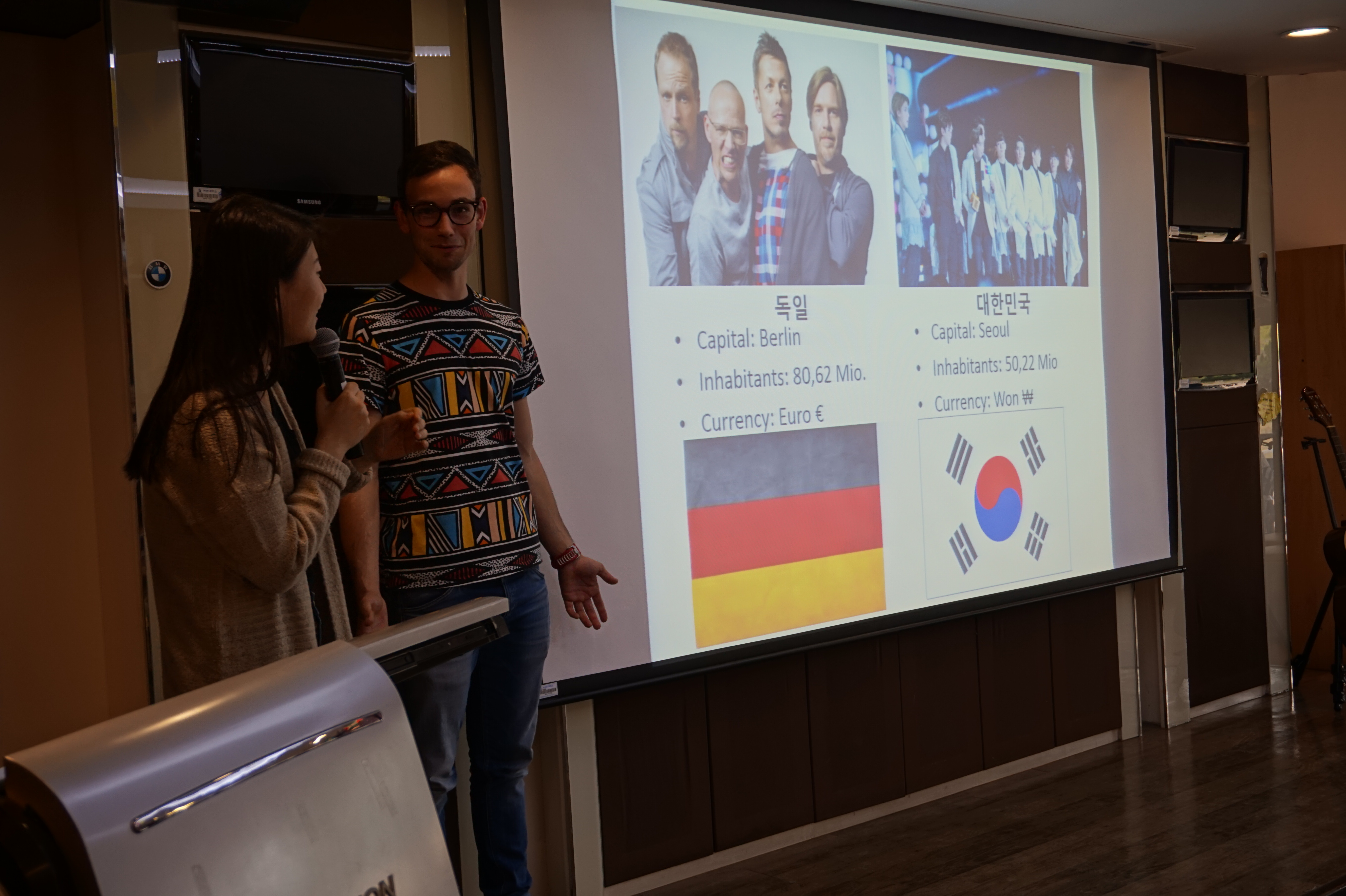 ●International Lounge
The International Lounge, located in New Bauer Hall, is the place to go if you want to meet people from other countries, learn about other cultures or practice another language. Furthermore, there are many events throughout each semester where students from different countries can talk and share their cultures and customs with each other. There are also books and DVDs that students can borrow. This is the place to go if you want to make a foreign friend, which is a good way to improve your English, or other foreign language, skills.

●Dong Yeong Hall (Center of International Education)
Dong Yeong Hall is the first building on the right when entering Keimyung's south gate. It houses many programs. Students can study English, Chinese or Japanese in Dong Yeong Hall when they have time. There are programs for TOEIC, TOEFL, English speaking and Japanese speaking. In addition, the Confucius Institute on the second floor has many Chinese language programs, including a Chinese speaking program, HSK study program and Korean-Chinese cultural exchange program. The programs offered at KMU are cheaper than those at institutes. Furthermore, if students get a high enough test score, their tuition will be reimbursed.
In addition, if you are interested in studying abroad, you should go there to get information. There are student exchange programs, language study abroad programs and world exploration culture programs. If you meet the qualifications, you can apply and participate in one of these programs.
As the new semester begins, it is important for freshmen and exchange students to get the most out of their university lives. Students should spend time looking around campus and getting adjusted to a new school. In addition, there are a lot of programs posted on the university's homepage to help students get integrated into campus life. The Gazette hopes all students have a successful and meaningful life at Keimyung University.

●Cafeterias
Keimyung has cafeterias or food courts in Bauer Hall, Aram Hall and Bokji Hall. Each place has a variety of choices with some similarities and differences among them.
Bauer Hall has two parts: Old Bauer and New Bauer. Old Bauer Hall has a traditional cafeteria where students buy a food ticket from a cashier and go through the food line to pick up their tray of food. There is also an area to buy drinks and snacks. Alternatively, New Bauer Hall has a more modern food court where students order and receive food at one of four counters that have Western food, Korean food, Chinese food or fast food. When students want variety, they usually go to Bauer Hall. Also, there is a coffee shop in the corner where students can buy bread or cake.
Aram Hall, which is near the south gate of Keimyung, has a cafeteria on the third floor. The cafeteria is divided into a Western food cafeteria and a Korean food cafeteria. Furthermore, there is a small coffee shop and convenience store in the Western food cafeteria and the Korean food cafeteria, so students can get coffee after they have a meal.
Bokji Hall is next to Shattuck Hall near the east gate. Students attending classes at Shattuck Hall, Osan Hall and the Engineering complex usually go there. The food court is located on the first and second floors and has a variety of food like the other food court. In addition, there is cafe on the second floor.
There are several cafeterias on campus that offer a variety of food that students like. During spring semester, it's a good idea for freshmen and exchange students to try all the cafeterias and different types of food.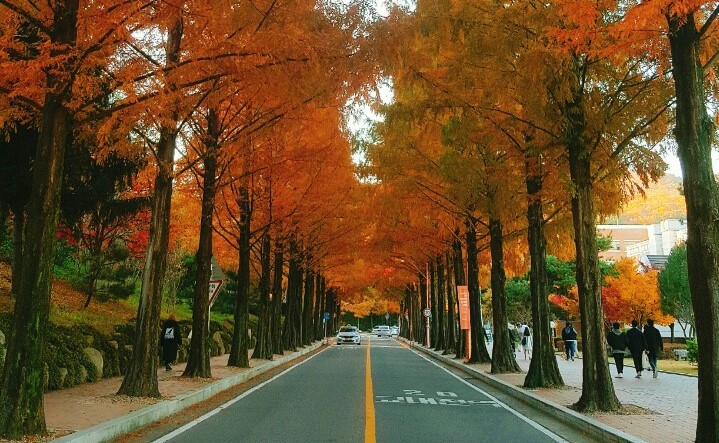 ●Attractions
KMU's campus is one of the 10 most beautiful campuses in Korea, but new freshmen and exchange students are probably unfamiliar with these places. When spring comes, cherry blossoms go into full bloom. When fall comes, students can enjoy fall leaves. Students can see beautiful scenery on campus each season. Here are some of the best places.
First, there is the Korean Village with traditional Korean houses, a pond and a summerhouse. Students enjoy this place when they have no classes, walking the paths or hanging out with friends at the summerhouse. This place is so beautiful that many students, as well as visitors, come here to take pictures.
The second is metasequoia road, which is located near Keimyung's east gate. The road is lined on both sides with metasequoia trees. These trees turn green in spring and then turn red in the fall. The trees make it seem like you are going through a colorful tunnel. Metasequoia road bordered by red trees like picture above.
Keimyung has many other beautiful places that students can visit, so it's very pleasant to be on campus. When you have no classes, it is fun to visit these places and take pictures.