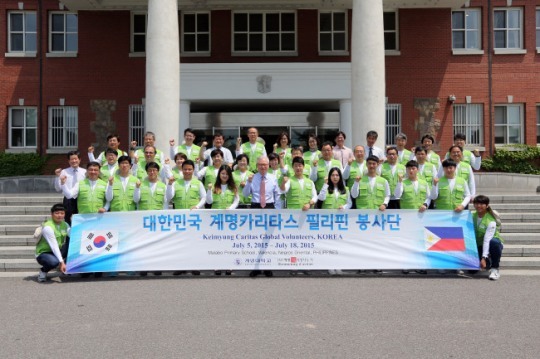 Interview with Caritas Volunteer Center staff member, Shin Sang Su.
1) What is the purpose of the Caritas Volunteer Center?
The KMU Caritas Volunteer Center coordinates service activities on campus and throughout the world to help the needy and respond with action and love. The center was set up in 2015 to promote the social mission and core values of the KMU philosophy. It establishes policies of education contribution, organizes volunteer work and cooperates with institution related volunteering. It manages the results of various volunteer work and supports domestic and international volunteer efforts.
2) What does it do and what programs does it have?
It works with professors, staff members, students and students in major-specific volunteer projects who work abroad. There are also many programs such as a leadership and volunteer program for scholarship students, Kimchi Love Sharing activity and programs for multi-cultural families.
3) How does it support Keimyung University students?
It offers students various programs, which are posted on the center website. The budget is not huge, so volunteer opportunities are limited. It provides opportunities to develop students' volunteer activities through the Love Sharing Support Program. Most importantly, it connects students service activity to their majors domestically and internationally. For example, the Major Specialization Volunteering Winter Program in 2016 got a good response from professors and students.
4) What are the standards for applying to volunteer programs in the Caritas Volunteer Center?
It is different for each program. In the case of a volunteering and leadership program, only students who have received Jin-li scholarships are eligible. We prefer students with more volunteer experience, so they should write it in their cover letters.
5) What aspects do you like about the Caritas Volunteer Center?
We give students a chance to participate in volunteer activities. The most impressive activity is that we volunteered in elementary school in The Philippines.
6) What's your opinion about having students volunteer?
You must have the heart volunteer. Decide when you are free, and we will arrange the shifts with you. Also, you need to think that "volunteering is part of your life." If you focus on your volunteer activities, you will more prepared for your new college responsibilities.