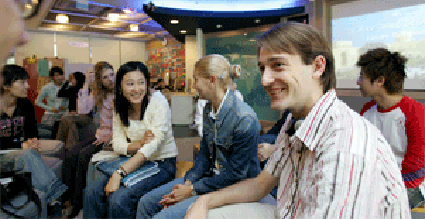 There are many different jobs at Keimyung University. Here is an introduction to the International Office team.
Interview with International Office staff member, Kim Ga-na.
1. What's the main job of the International Office?
The International Office team has two primary jobs: student exchange programs and student services. In the Chinese Center, the administrative office for China is only in charge of the China and Taiwan team, so it's not in charge of my team. I think you may as well know.
Exchange programs must have a business agreement or an interchange business between KMU and foreign universities or institutes. We also organize participation in international expos and develop new programs. We try to find new international partners to connect KMU to places throughout the world. Students' services are divided into four parts: foreign students, exchange students, internationalization programs, and the International Lounge. For more information, visit the International Exchange Center website
at:
http://web.kmu.ac.kr/intlkor/
2. What do you need to work for the International Office team?
To work for this team, I think it is important to manage your health. With the heavy workload, you could become sick or work slowly if you don't manage your health. Also, having the right mindset is an important part of being an International Office staff member.
If you work irresponsibly, small mistakes may become big mistakes. I always try to focus my mind.
3.Why did you choose this work?
Although there are many departments at the university, a good thing about the International Office is that you can constantly develop yourself. There are many difficult and hard tasks, but I can learn many things from them. Also, this team has the advantage of working with young people, so I can keep a youthful mindset and develop my job performance. One of the best benefits is that you can socialize with students from various countries.
4. Please give some advice to students who want to work in the International Office.
In the International Office, you have the opportunity to interact with students of various nationalities, go on business trips abroad, and meet and work with several university officials.
On the other hand, I want you to know that a lot of work, sweat and effort is required to get the job done. It is important that you have a passion for your work and show an enthusiastic attitude.