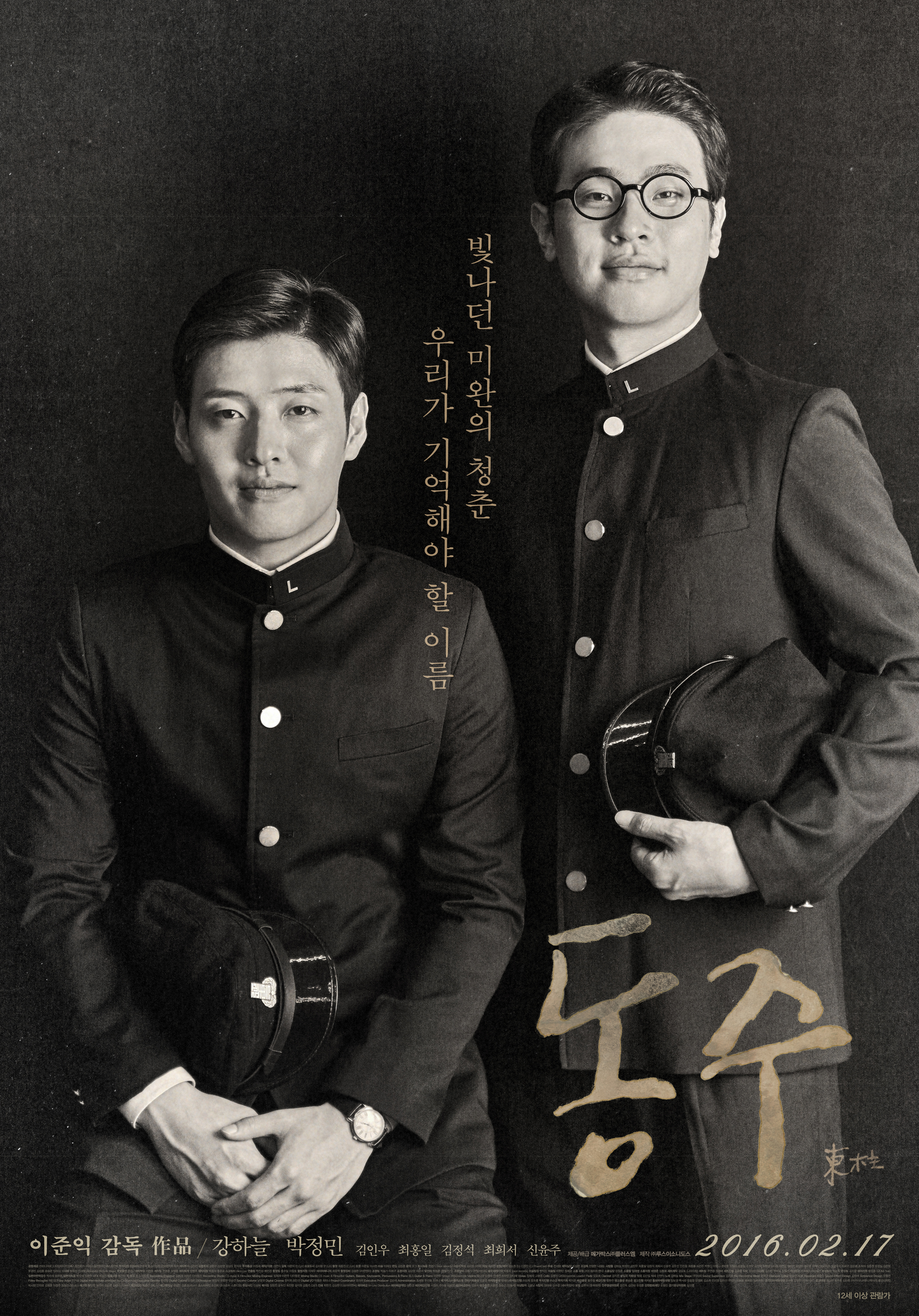 Director: Lee Joon-ik
Genre: Drama
Starring: Kang Ha-neul, Park Jung-min
Runningtime: 110 mins
Korean poet Yoon Dong-ju(1917-1945) became known as one of the most renowned Korean poets during the Japanese Occupation period after his manuscripts were published as
The Heavens and the Wind and the Stars and Poetry
in 1948. This movie revolves around the friendship between Yoon Dong-ju and his close friend Song Mong-gyu during the last 10 years of Yoon's tragically short life. Lee Joon-Ik directed and Shin Yeon-Shik wrote the screen play forthe film Dongju: The Portrait of a Poet. The movie shows how the gloomy, oppressive era of the Japanese occupation affected this sensitive, young poet and his friend. We can understand that much of his passion was sublimated into a desire to create his art.
Starting with the interrogation by a Japanese military officer, Yoon Dong-Ju was questioned if he was involved in the independence movement created by Song Mong-Gyu. The idealist Song Mong-Gyu is Yoon Dong-Ju's cousin and a Korean independence activist. Introspective Yoon Dong-Ju writes poems day and night, but aggressive and outgoing Song Mong-Gyu bashes away at anything for his country and his own faith. These two friends decide to go to Japan for their studies and come to change their names into Japanese ones. While Song Mong-Gyu focuses on the Korean independence movement, Yoon Dong-ju just wants to compose poems at moments of despair. However, Song Mong-Gyu's secret plan for the independence movement fails and they are found guilty of their crimes. Ultimatly, Yoon Dong-Ju was imprisoned for participating in the independence movement.
Making a film about Yoon's life in black and white considers that our memories of Yoon are not in color. Director of Lee Jun-Ik said "We produced the movie Dong-Ju in monochrome film to establish its period mood and background." Lee Jun-Ik wanted to include Yoon Dong-Ju's beautiful poems so they would be remembered and focused on why he became a notable Korean poet after he died.
On the whole, audiences can experience Yoon Dong-Ju's life indirectly throughout this movie. The two artists, Yoon and Song, tell their stories from their own perspectives during the Japanese colonial period. In the movie, their past stories show what they want in their life. It could be very hard to imagine the lives of two young patriots without a certain familiarity with Korean history and literature.Yoon Dong-Ju left his poems and has been admired by many Koreans. In contrast, people seldom know Song Mong-Gyu who focused on action. However, Yoon Dong-Ju said that as Song Mong-Gyu led the way and did his best to make a better world, Yoon Dong-Ju could write his poem and miss his fatherland.
Dongju: The Portrait of a Poet
is a historic biopic which works as a respectful tribute to Yoon's life and work. The film gives a small glimpse of what this painful Korean history might have been like, but his beautiful poems will continue to live on.