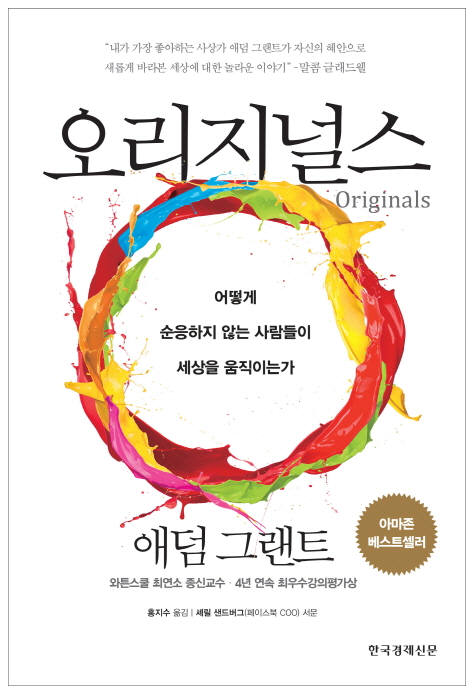 ●Author: Adam Grant
●Genre: Economy/Management
●Published: 2016
●Lenght: 463 pages
When you hear the word "leader," what do you imagine? In my case, a leader is an inviolable human, so I thought he would have different talents compared with normal people. However, after reading
Originals
by Adam Grant, I realized that was just my opinion. If you read this book, it will not only change the way you see your world, but it might also change your life.
Adam Grant earned his Ph.D. in organizational psychology from the University of Michigan and B.A. in psychology from Harvard. He is the top-rated teacher at Wharton School of the University of Pennsylvania. He has been recognized as one of HR's most influential thinkers and the favorite professor of university students. His first book,
Give and Take
, was a
New York Times
bestseller translated into twenty- seven languages. In
Give and Take
he introduced the secret of success not found common beliefs. In 2016 his new book
Originals
was published.
Original means a human that is different, has unique characteristics, creativity and originality. In
Originals
he addresses the challenge of improving the world and gaining the perspective of becoming original. In addition, by refusing the general trend, we cannot only overcome our situation, but also get skills to make things better. He says that creative people also have fears like normal people and have doubts about their thinking. However, when they face challenges, they are never weak or paralyzed. Instead they put ideas into action. Therefore, this book gives readers the knowledge and courage to think creativity in the real world.
The book is divided in to eight sections. Each section has several parts and each part has stories, research, studies and how to do it. One of the most impressive sections is "Creative Destruction." In Creative Destruction, Grant talks about Warby Parker, which is an online store selling glasses started by four men. They wondered why the price of glasses was so expensive and then they got to know a monopolistic enterprise, Luxottica. When they started their online glasses store, people around them called their decision reckless. However, they became very successful through their innovative enterprise.
Adam Grant said, "People think that to be a creative human they have to take great risks but that is not true. They just recognize and reduce risk, and then go into action." These ideas are close to my heart because I have a sense of inferiority about being a successful human. I complained about my talent and ability, but after reading this book I wasn't worried anymore. I realized that the successful people in the book also had fear and hesitation just like me. This fact helps give people the courage to challenge everything. And I am surprised at Adam Grant's insight that his perspective is innovative, not fixed, thinking. This revelation really opened my eyes to the many possibilities out there. Therefore, in my life, this book has the greatest interest and value to me. So I hope many people read this book and gain valuable insights like I have.