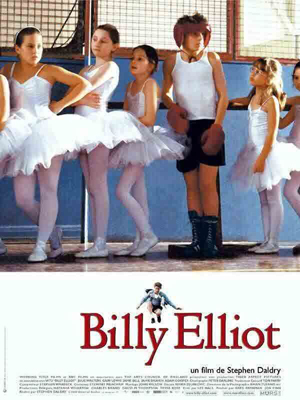 Directed by Stephen Daldry
Genre: Drama
Starring: Jamie Bell, Gary Lewis, Julie Walters
110min.
Do you have a dream? If so, are you trying to make your dream come true? There is no genius who can beat a competitor who makes an effort; a person who truly enjoys their work cannot be beaten. No matter what your dream is, if you enjoy the process of making your dream come true without giving up, someday you will succeed.
This is the lesson of the movie Billy Elliot. The main character is Billy Elliot. He is a boy who lost his mother early and lives with his father and brother, both mine workers. A scene opens to Billy practicing boxing in a gym, wearing the boxing gloves of his grandfather because he was compelled to show his manhood by his father and the other children of the coal mining town. In the gym, a boxing class and a ballet class were offered. Billy was more interested in the ballet class than the boxing class. One day, Billy was taught ballet by Mrs. Wilkinson by chance, and he realized that he liked ballet and had talent in ballet. But, his father and brother disapproved of ballet because they thought dancing ballet was only for women. Finally, Billy practiced secretly with Mrs. Wilkinson so he could audition for the Royal Ballet School in London. On Christmas day, Billy performed the dance he had practiced with Mrs. Wilkinson. At that time his father, Jackie Elliot, visited the gym and saw Billy dancing. He was impressed by the dance, and finally acknowledged Billy's talent and decided to support his son. After watching the performance, Jackie started to save money for Billy to have an opportunity to audition. At the audition, Billy was asked by an interviewer. "What does it feel like when you are dancing?" and he answered "I don't know. Sort of feels good. It's sort of stiff and that, but once I get going then I forget everything and sort of disappear. I sort of disappear...like I feel a change in my whole body...like there's a fire in my body. I'm just there, flying like a bird, like electricity. Yeah, like electricity." Finally, Billy passed the audition and became a more talented ballerino than anyone else.
In spite of his poor environment, he had a dream and finally achieved it. So I think Billy is a great boy. But Billy's father, who acknowledged and generously supported Billy's talent, is as great as Billy. As you see through the movie, Billy's father is a rough and inflexible person. However, after he realized Billy's talent, he devoted himself to supporting his son.
Most people generally think that a mother's devotion is wonderful. However if you watch this movie, you are able to feel how wonderful a father's love is. This movie has an excellent plot, performance and direction. It gave us a snapshot of life without sensational images and subtitles. At the beginning of the second semester, I hope you will become aware of the gratitude of your parents through this movie and find a goal that you really want to achieve, like Billy did.