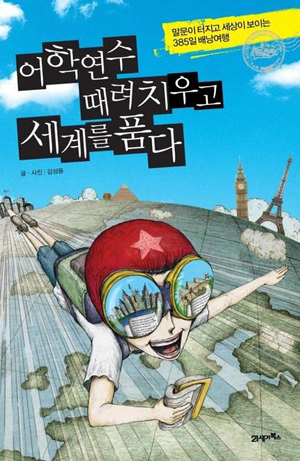 Written by Kim Sung-yong
Genre: Travel Essay
Published in December 2007
391 pages
Have you thought about escaping your competitive, stressful daily life? Many people may just think about making a change without taking action. But, the writer of "
Traveling Around the World Instead of Going Abroad to Study English
" is a university student who does take action. He leaves his routine to travel around the world. Instead of going abroad and living in another country to study English, he traveled from Korea to the U.S. via South America, Europe, the Middle East and Africa.
Kim Sung-yong, the author of this book introduces countries and their cultures through many pictures and essays. Some of the countries introduced in this book were different than I expected. After reading this book, I became more interested in South America. Before I read this book, I thought that the people of South America were unhappy because I thought they lived in unsafe conditions and had bad political systems. But, this book describes South America as a continent which is full of passionate people who constantly pursue change. For example, Cuban people live with a positive and happy attitude even in poor economic conditions. In the Latino street, many people enjoy a cultural night life where everyone is dancing with one another. If you read this book, you will be addicted to the activity and passion of South America. The writer said "Travel is my routine." This means that travel is not always about finding good things and experiencing happy events, but rather that sometimes you must just rest in certain countries because of sickness. This book tells us that while traveling, we could have the bad as well as the good.
There are many pictures and essays written by the writer in the book. He wrote the words "It can be you" on the front of his shirt and he always wears the shirt while he travels. He wants to say to us that you can also escape from a routine filled with competition and enjoy travel. He said that many students don't speak English when they meet foreign people, although they have studied English for some years. Through travel, we can study and learn real, live English.
While he traveled, his daily activities were naturally related to speaking English. He said this is the attraction to travel that makes it better than studying abroad. When you study abroad, you speak English at same level as other Koreans. After finishing language classes, students often speak Korean to each other rather than English. But while traveling we can only speak English. So the writer thinks travel could be the best way to learn English.
Do you still think world travel is less efficient than a language study abroad? I highly recommend you read this book. If you have any realizations after reading this book, you are already making a step forward to experiencing the bigger world.