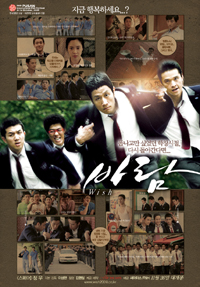 Directed by Lee Seong-han
Genere: Drama
Starring: Jeong-gu, Hwang Jeong-eum
107 min.
Nowadays, most university students are very busy thinking about how to get a job. This movie,
Wish
, might be good for you to relax from your busy life. I wish you have the time to look back on your school days and think about yourself, and also find something important which you are missing.
A third son, Jeong-guk, was called 'Jjang-gu' by his family, friends and neighbors because he had a bulging forehead. He was a troublemaker. Jjang-gu's brother and sister were good children, but Jjang-gu was a juvenile delinquent. When he entered a commercial high school, he learned the law of the jungle. That is, the man who has the most power can reach first. He developed a swagger and had power in his class. He made congenial friends and was often absent from school. One day, he and his friends were put in a detention center because they had bothered their classmates. Jjang-gu's father waited for a long time to give bread and milk to him in a detention center. At that time, Jjang-gu didn't know why.
When he came back to school, he joined a gang, called 'Monster'. After he joined 'Monster', he continued on his negative path. He had a girl friend and became a powerful senior because of his gang membership. He thought that as a senior high school student, he would be the leader of the school, but he became a normal high school student when he came to maturity. One day, Jjang-gu heard that his father got a disease, hepatocirrhosis. When he got the news, he didn't feel anything. However, after his father slapped his face, he only felt mental anguish. Finally, he realized the weight of his father's presence in his mind. He recognized his father's love. After that day, Jjang-gu tried to be a good son for his father. However, his father died and Jjang-gu just buried the word which he wanted to say to his father in his heart. 'Don't worry, I'll be a good grown-up.'
This movie,
Wish
, described students' feelings which happened during our school days, such as wandering, worry, and negative narcissism. For that reason, it arouses our sympathy and makes us lost with memories of our school days. Furthermore, it makes us think deeply about our father. Most fathers are always looking after us and giving us their love, but sometimes we just feel as though they are interfering with us, as Jjang-gu did. Are you on the way to becoming 'A good grown-up'? Do you miss something important in your life? Now, another year is nearly over already. I recommend you to recollect your school days and think about your father by watching this movie.