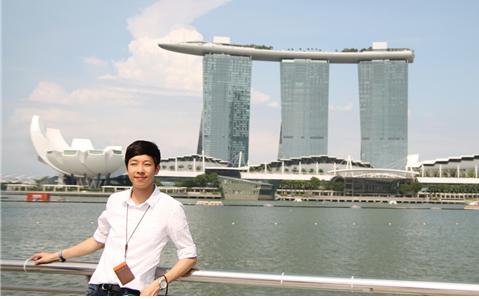 ●Ryu Jun-sang (Dept. of Chemistry)
I interviewed Ryu Jun-sang from Keimyung University Department of Chemistry who participated in the Volunteer and Leadership Training for Scholarship Students program.
1.Please introduce yourself and the Volunteer and Leadership Training for Scholarship Students program.
I am Ryu Jun-sang, and I study in the Department of Chemistry. The program is each college's scholarship students participate in volunteer work and training such as seminars. This semester, the program was conducted in Singapore and Malaysia. I explored a local school and the students' learning environment. I also had an opportunity to experience the local culture.
2.What did you do to be selected for that program?
This program does not have a special application process, unlike other programs. The program is managed by each college's administrative office. They select excellent students from each college. In order to participate in this program, you have to pay attention to your semester grades. I think it is a good chance for students if they study hard.
3.What was the most memorable episode of the program?
During the training period, I visited the National University of Singapore and Nanyang Polytechnic University in Singapore. It was an opportunity to know how students study in that type of environment. I also visited Universal Studios, the Botanic Gardens, and Bay Gardens. Finally, I visited Merlion Park and saw how the tourism industry developed. The most memorable time was a project conducted together as a group in the evenings. We talked about the Republic of Korea and Singapore in economic growth and the tourism industry and how Singaporean and Malaysian students can be attracted to Keimyung University as international students.
4.Are you satisfied with the global programs of Keimyung University including the Volunteer and Leadership Training for Scholarship Students program.
One of the great advantages is Keimyung University's programs are very diverse. I participated in the 2013 Winter Cambodia Volunteer program, the 2014 Global Leadership program, and the Volunteer and Leadership Training for Scholarship Students program. After experienced these programs, I am interested in the culture of other countries. The most valuable thing is I had another family that supported each other. I will never regret participating in the various programs. This program was also like the other programs. Through that experience, I learned many things.
5.How was the leadership program?
In fact, until recently, I did not know about this program. I heard about the leadership program from my friends who had participated in that program. It was really good to meet good people and experience many programs before graduation. I learned a lot during the training through meeting students from other majors. We talked about our future life and motivated each other.
6.How do you think this experience will affect your future life?
I think it is difficult to gauge the effect on my future. However, these experiences certainly brought a big change to my life. I believe all the students who participate in this program will be proud of Keimyung University.
7.What do you want to say to younger students?
Now I am a senior and most students are younger than me. I didn't have any pride in Keimyung University before I experienced the global programs of Keimyung. I met many people in school, and I learned so many things and changed myself through new experiences. Finally, I want to say to younger students meet and talk with students in other majors. Only meeting friends who are studying in the same major is also good, but if you have a meeting with students studying in different majors, you can learn more. Initially, that time will be strange, but do not close the doors of your mind. It will be good if you are ready to open your mind to accept a wide range of students. Meeting students from other majors will change you positively, and it is sure to further enrich your campus life.