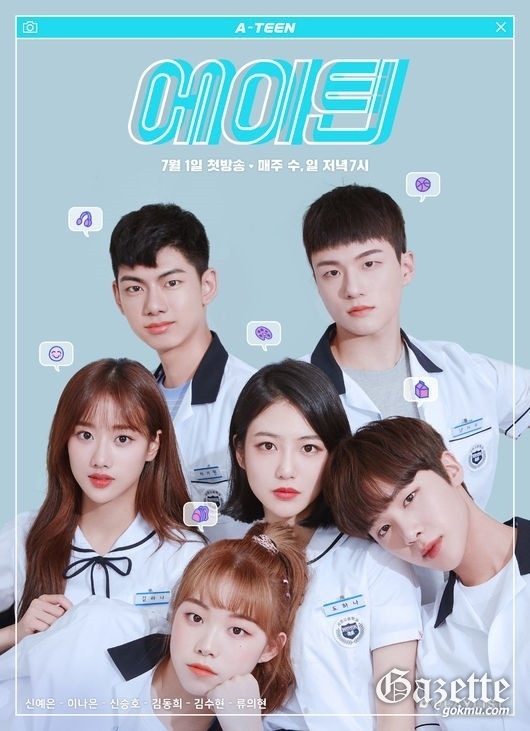 ●Production Company : Playlist
●Main actors : Lee Na eun ,Shin Ye eun, Choi Bo min, Kim Dong hee and Ryu Eui hyun
●Screening date : July 1, 2018

There is a web drama that can currently watch on Youtube called A-teen. Although TV viewers are aging, there was an analysis that the possibility of success of dramas targeting teenagers has increased as the use of web and mobile-based content has spread. These days, web dramas are very popular among teenagers. An example of these new dramas is the web drama, A-teen, which is about teenage empathic romance and aimed at teenagers.
The show consists of video clips less than 10 minutes and the topics are about high school sophomores' love, friendship and career concerns. These "A-teen" shorts have exceeded 1 million views for each episode, creating a syndrome among teenagers. Due to the explosive popularity, season 2 has been already been made. Shin Ye-eun, who plays the main character Dohana, gained popularity with her "girl crush" charm, quickly emerging as a rising star during her debut. The drama is very unique in that all episodes are based on a teenager's point-of-view. The CEO of playlist, Park Tae-won, said that it is important not to follow a trend but to make it first by including the hairstyle, fashion, language, behavior, and speech of teenage characters. The main character of "A-teen" has created a trend of wearing mismatched socks and short hair, coining the term " Dohana trend". Playlist's other contents have a common worldview that shares the backgrounds of schools, cafes, and companies. When you take that into consideration, it will help you understand and explore the other contents of the shows.
The popularity of web dramas will continue and as media delivery has changed to smartphones and mobile platforms; teenagers can watch dramas in a variety of ways. Teenagers need a drama that can win sympathy while also representing their own concerns.