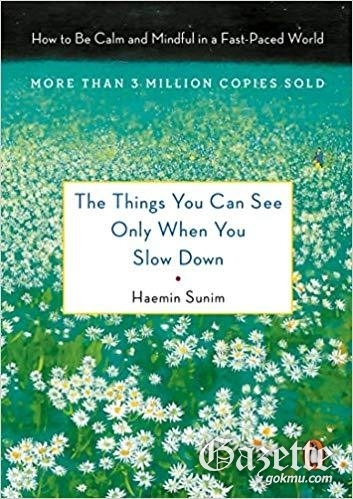 ●Written by Haemin Sunim
●Genre: Essay
●Published in January 2012
●288 pages
The end of year has already come closer. Meanwhile, many people will have difficulty in living and have stress from relationships, work and love. I recommend this book for those that do not take a rest and are mentally exhausted read this book or need to be comforted by someone. In the prolog, the author said that he wanted to inform many people that wisdom of life is not obtained by doing many things, but rather naturally comes from comfortable pauses.
The essay The Things You Can See Only When You Slow Down has continued to be a steady seller in Korea. In addition, this essay was selected for The British Book Awards for an award in the field of nonfiction lifestyle on the basis of its literary contribution as it was ranked as a bestseller in Amazon England. This book has already sold over 3 million copies in South Korea and is also sold in 26 countries around the world, transcending religion, borders, and age.
The author is Haemin Sunim who is an influencer, renowned Zen Buddhist monk, and meditation teacher. Before publishing this book, he posted his thoughts on Twitter and shared that with many followers. He guides people on how to be calm and mindful in a fast-paced world and how to calm your mind with wisdom. The book consists of 8 short chapters that concern rest, relationships, spirituality, work, passion and love. Calm and peaceful statements will touch you quietly and deeply. In addition, written simply and with gentle humour, it will help you find lasting happiness in a changing world.
In one section, the author writes, "When you are so busy that you feel perpetually chased, when worrying thoughts circle your head, when the future seems dark and uncertain, when you are hurt by what someone has said, slow down, even if only for a moment. Bring all of your awareness into the present and take a deep breath." We are accustomed to comparing our life to other's successes which makes us feel unhappy. If you feel unhappy, first find meaning in your work and then have good relationships with those around you. Only when you are happy can you help to make the world happier.
I hope you take the time to read this book, then recover your hurt mind and concentrate on yourself. Haemin Sunim's simple messages can be a wise and kind teacher in your life and help you keep sight of what really matters.