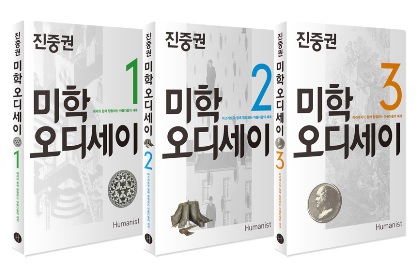 ●Written by Jin Jung-guan
● Genre:Political Philosopy book
● Published in March 2004 (Final Book)
● 328/340/368 pages
Do you like to appreciate artwork? Have you ever been to an art museum or gallery? Many Koreans visit museums and historical places as well as enjoy the various kinds of music and movies. However, many people in Korea don't feel so familiar with art yet, but Odyssey of Esthetics series can help us feel closer to art.
The series of Odyssey of Esthetics is divided into 3 books which progress the story with three artists. The first book is about ancient art and medieval art with Maurits Escher who is a print artist from Holland. The second book is about modern art with the surrealist painter from Belgium, René Magritte. And the final book embraces all periods and focuses on humans with Giovanni Piranesi who is an architect as well as a print artist from Italy. The author tells stories about the history, features of the eras, and the esthetic sense of humans with these artists' works and where their attentions are given.
This series is not just about esthetics though. Odyssey of Esthetics talks about human beings with its readers. This makes us consider how mankind has evolved, and how art is combined with many kinds of humanistic elements. This point might attract many readers who want to know more about art and this could prove to be a seminal book on esthetics in Korea.
Jang Han-yi KMG Reporter
jhy98hany@stu.kmu.ac.kr