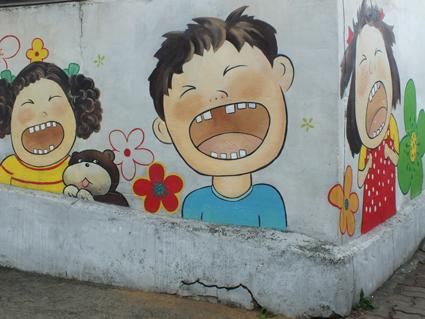 These days, it is quite chilly and windy outside. We look at people's clothes anticipating winter. Are you tired because of the same monotonous routines? At a time like this, do you have the sudden desire to go on a trip? If so, perhaps you should check out the Suamgol Mural Village? The Suamgol Mural Village, located in Su-Dong, Cheongju-si, Chungcheongbuk Province, it used to be a shantytowns where poor people lived during the Korean War. Starting in 2008, this place was transformed into the splendid Mural Paintings Village by local artists supported by a public art project. Because of the murals in this town, it became a popular filming location for many TV drama series, which in turn drew a lot of tourists from many areas, including foreign tourists. Now every weekend, this village in Cheongju is full of people of all ages. When I visited Suamgol, I meet Wang Chun-hong, a culture and tourism guide for Cheongju, and Rim Min a local artist and villager. Here are my interviews with them.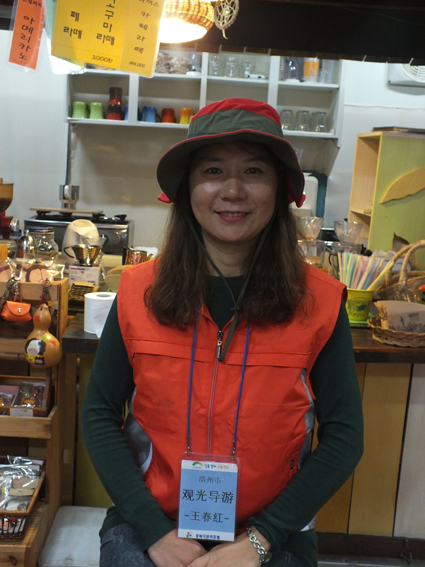 ●Suamgol guide Wang Chun-hong
1. Please introduce Suamgol Mural Village?
Suamgol used to be a shantytown where refugees resettled. Now, this town is beautiful and fascinating, but it symbolizes refugees' pain in the shacks they used for houses because they didn't have anywhere else to go. Looking closer, you can see the houses were jammed close together with narrow alleys between them. In several parts of this town, you have to search for hidden picture, which is a lot of fun.
2. Why do tourists come here despite so many other places to visit in Korea?
In Suamgol, there are no residents who lived here during the Korean War. Those people died or moved away. There are empty houses and only fifty households remain. In winter, they still use coal for heat because they don't have boilers. This is one of many things done the old way. For middle-aged people, seeing things done the old way helps bring back childhood memories. Many people have said to me, "This place brings back memories of when I was young and reminds me of my childlike innocence."Because of the small population, locals help each other with happy and sad things and have strong relationships unlike in big apartment buildings. During the First Full-Moon Day, they hold a festival with delicious pork and traditional Korean folk culture Pungmul. If you go there, you can try the food and enjoy the festival.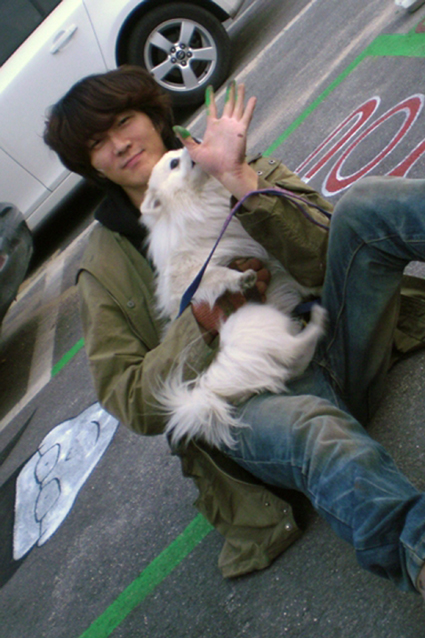 ●Local artist Rim Min
1. Please introduce yourself.
I am Rim Min a street artist who makes artwork in streets all over the country, including Suamgol.
2. When did you start to do coal art? Why did you choose coal and Suamgol?
I started in spring 2012. One day, I found some coal near a neighbor's wall and scribbled on the wall with the coal. Several days later, I was very surprised when I passed the wall. I thought the coal was garbage, but my scribble remained on the wall. Then I realized that it had no use there, but it can be used for communication. This is the motivation of my artwork. This experience gave me the inspiration for my art. Suamgol is my hometown, and I want to make meaningful and attractive spaces here.
3. A picture on coal is delicate. What is the process to make your coal art?
First, I heat the coal and then put it in a special liquid to harden it. During the process, the coal can break easily, so I have to wait to make a picture. After about three days, coal becomes solid and I can put a picture on it. I want my coal art to be considered street art. I hope people will be happy seeing my coal artwork in the street.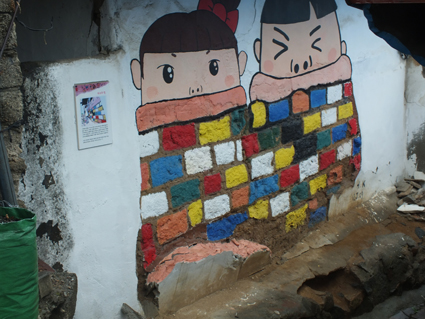 If you go to the Suamgol Mural Village, you can see a lotus flower, humorous tiger, one hen and two chicks, great smiling children and stairs with many-petaled flowers on the wall. It takes about forty minutes to leisurely walk around. In addition, there is an observatory where you can see everything. This town offers a landscape from the 70's, fresh air and a beautiful night view. Sounds like an attractive place, doesn't it? If so, why don't you check out the Suamgol Mural Village?