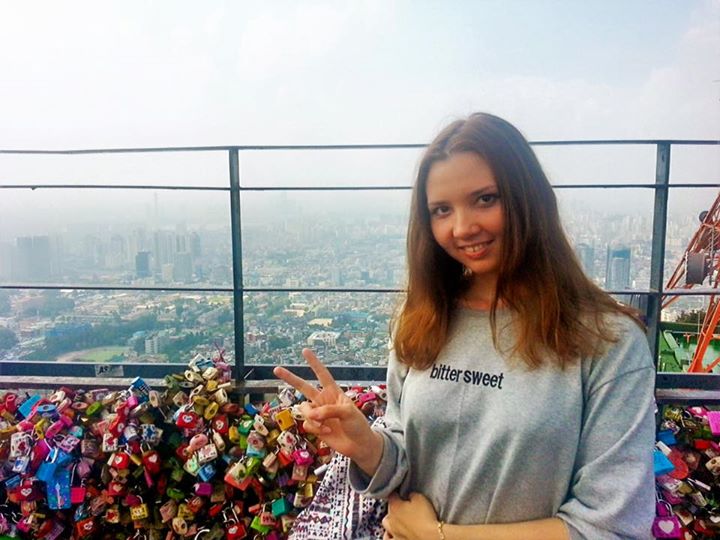 ● Leisan Mukhametshina from Russia
I interviewed Leisan Mukhametshina. She is from Russia and lives in Keimyung KELI House. She is an exchange student at Keimyung University in the International Student Exchange Program. She will go back to Russia at the end of December.
1. Please introduce yourself
Hello! My name is Leisan Mukhametshina, and I come from Russia. I'm 19 years old, and I'm studying in Udmurt State University in Izhevsk, Russia. I'm a third grade student, majoring in economics.
2. Please introduce your country
Russia is the biggest country in the world, so even I don't know the length and breadth of it. My hometown is situated in the European part of Russia near the Urals. When you talk about Russia, the first thing that comes to mind is breathtaking natural scenery: wide rivers, high mountains, lakes, forests, and fields. You can travel for days and won't be tired of it. Talking about the weather, it varies greatly, depending on which part of the country it is. In my city, the average temperature in summer is 23℃ and in winter -13℃. Speaking of places to visit, I would certainly advise you to visit St. Petersburg. It's an enchanting city. Everything there is a must-see. If you can come to my hometown, Izhevsk, we have many beautiful cultural places for sightseeing.
3. Why did you decide to come to Korea?
Since I entered university, I have wanted to experience studying abroad. I was happy to find out that I had a chance to go to Korea as an exchange student. As a student in the Department of Economics, I heard a lot about the Miracle on the Han River, so I wanted to see the country that in 50 years has become developed and prosperous with my own eyes. Economic growth doesn't stop, so I think a lot depends on education and culture. I'm glad that I'm able to see it from inside and to live a few months as a student in Korea.
4. What's your major and how did you decide on your major?
My specialization is the economics of enterprises and organizations, in other words, business administration. I think it's quite common but a very promising field for my future. It involves many aspects of our day-to-day lives.
5. What do you think about Korean people's superstitions?
It is really surprising that so many people here make important decisions based on that. I think it's partly because of the culture. I am actually really intrigued by the fact that some people believe in superstitions and they think that they can predict their future.
6. Are you superstitious?
Personally, I'm not really superstitious. I don't really believe that. However, I believe in fate. It has some similarity to superstition, I guess.
7. Please tell me about Russia's superstitions.
Russians are superstitious and pay attention to various omens, too. There are many signs and superstitions connected with mirrors. If you happen to forget something at home, and you have to go back for it, be sure to look in the mirror before going out, or better yet, stick your tongue out at yourself ? that way you'll avoid possible troubles and problems.
It is believed that it's good fortune to break dishes (plates/glasses) by chance. In addition, if you drop a spoon or fork on the floor, expect a woman to visit you; if it's a knife, a man. Spilled salt leads to a quarrel. If you're going on a long journey, before leaving, you should sit and be calm for a while. There are many superstitions, but it is really hard to recall them. These are the most famous ones, I suppose.
8. What has been your greatest difficulty since you came to Korea?
It's actually amusing how comfortable I feel in this country considering that the culture is totally different. I like the local food, the weather is nice, and people here are really friendly and responsive. The only difficulty is the language barrier. That gives me some troubles, but a lot people speak decent English, so that's not really a problem, and I'm learning Korean also, so it's just a matter of time.
9. What is your plan when you return to Russia?
I'm staying here only for one semester, so I will go back in winter, probably at the end of December. I need to take my exams there also, so my grades and studying won't be affected by being absent for almost 6 months. If we are talking about long term plans, then I want to graduate from my university, but I won't stop learning Korean. Languages have always been always my passion, despite me majoring in a total different sphere. Self-improvement is really important. That's my plan. And one day I hope to come back to Korea. I really like this country.