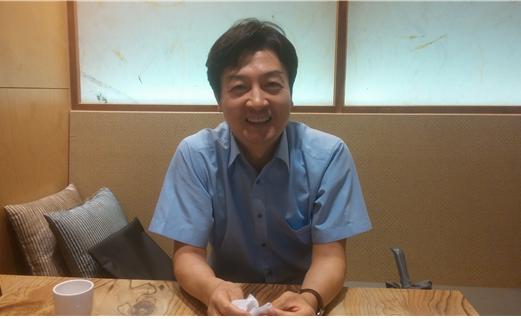 ●Choi Jae-jin, Director of Korea Foundation's Personnel Exchange Department
The Korea Foundation is a public institution responsible for public diplomacy and promoting Korea overseas. It offers a variety of international exchange programs to the public. I interviewed Choi Jae-jin, director of the Korea Foundation's Personnel Exchange Department, who graduated from the Department of American Studies in Keimyung University.
1. Please introduce yourself and your department.
I am Choi Jae-jin, a graduate of the Department of Americans Studies. I entered Keimyung University in 1987. I am the director of the Korea Foundation's Personnel Exchange Department. The Personnel Exchange Department is responsible for exchanges with experts in politics, economics, culture, and business. We invite foreign experts to South Korea to visit government institutions and cultural organizations and exchange opinions with experts from South Korea. We give them the opportunity to know the culture of South Korea. Our ultimate goal is to create a favorable environment for Korea overseas through a better understanding of Korea.
2. What was your reason for applying to the Department of American Studies in Keimyung University?
In high school, Changnyeong was my hometown. I wanted to go to a new city and leave Changnyeong. My classmates were looking at a list of universities. I found Keimyung University in Daegu through the list. I was interested in English, so I applied to American Studies.
3. What was your reason for joining the Korea Foundation?
Before joining the Korea Foundation, I worked in a securities company. However, working at the securities company did not suit my aptitude, so I felt a lot of frustration. Then, by chance, I saw the recruitment announcement of the Korea Foundation in a newspaper. At the time, I had graduated from American Studies. I was interested in international exchange and cooperation, so I decided to join the Korea Foundation.
4. How did you spend campus life at Keimyung University?
I concentrated on my major studies. I always tried my best in all of the courses I took by reading the class materials carefully. I also tried to improve my English skills through the English club Hermes. I invested most of my college life in improving my English skills and my major studies.
5. What was your most meaningful experience at KMU?

My most meaningful experience at KMU was when I went to Utah as an exchange student. At that time, going abroad as an exchange student was not as common as it is today. The reason I applied for the exchange student program was because of my professor's recommendation. I just wanted to try it as a new experience. I studied at Utah State University for one year. I received a scholarship from KMU and Utah State University, so I studied without any worries about school expenses. I achieved a good GPA as an exchange student as I participated very actively. I believe that the uncommon experience I had for one year helped me get a position in the Korea Foundation.
6. Can you give advice to students who want to get a job in the Korea Foundation?
As with other fields, the opportunities for employment in the international exchange or public diplomacy areas are very competitive. Usually they do not recruit many people. If you do not have prior experience or professional skills, I would not recommend this area for a job. Currently, applicants with high English skills who graduated from an international graduate school are applying for the Korea Foundation. If you want to apply, I recommend you achieve the required English skills and academic background
7. What advice do you want to give KMU students?
I would like them to try their best so that they can achieve good results.
Meeting KMU alumni will help you to make a clear goal and plan. Knowing about alumni's campus life will help you get information on various helpful experiences in KMU. You can also get employment information from alumni, so you can make a solid employment plan. Alumni can be mentors, and you can get advice from them. I hope you try to meet alumni and get a lot of benefits.