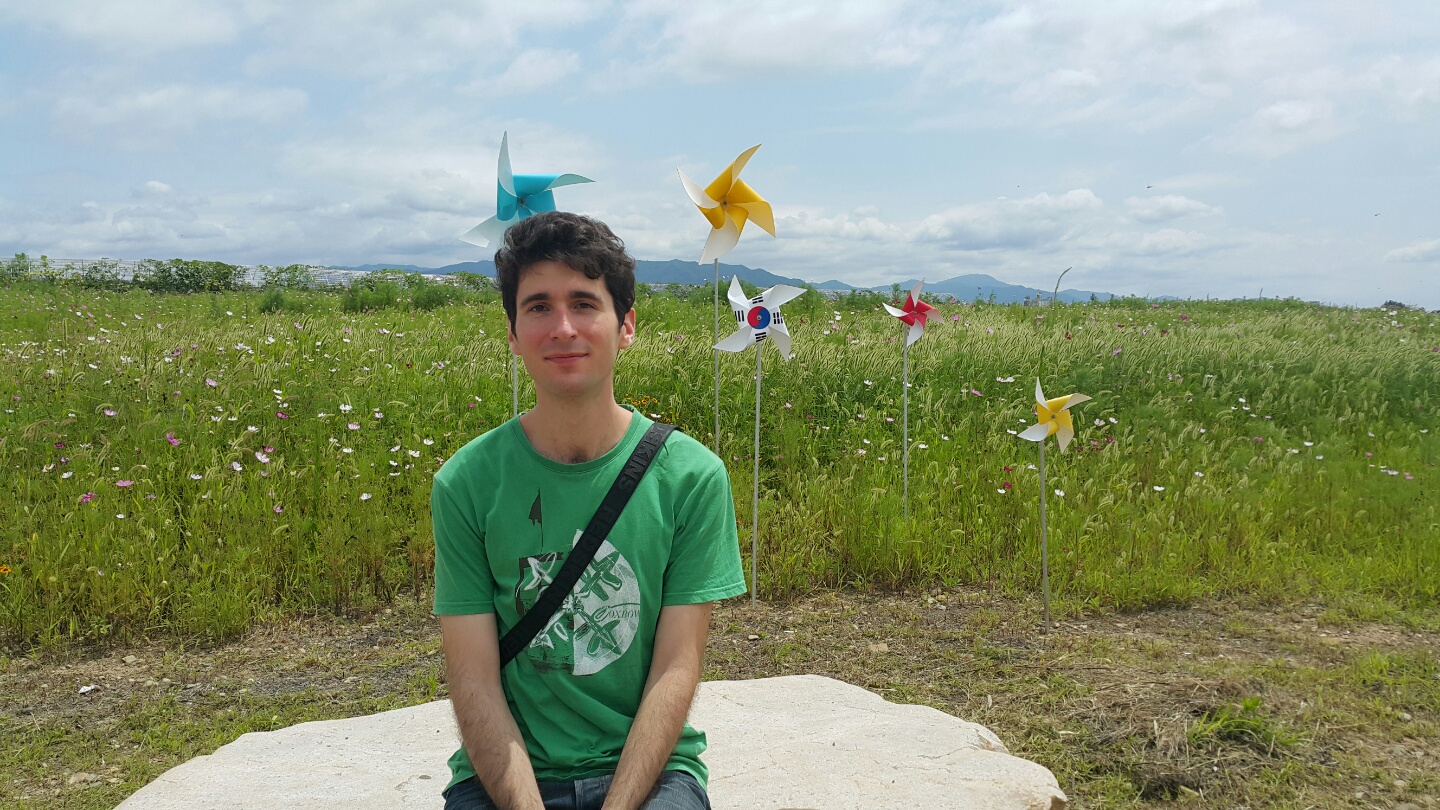 ●Aymeric Girault (Dept. of Game & Mobile Contents)
I interviewed Aymeric Girault. He is from France and lived in Korea for almost 1 year. He was an exchange student at Keimyung University in the International Student Exchange Program (ISEP). However, he finished this program, so he returned to France in August. This interview focused on his country's culture and his school life in Keimyung University.
1. Please introduce yourself.
My name is Aymeric Girault. I am from France, Bergerès-les-Vertus. Before I came to Korea, I studied in Nancy and Epernay. My major is game and mobile contents. I like playing video games and reading. I didn't know much about Korea until I came to Korea. However, now I am interested in Korea's culture since I met Korean friends at Keimyung University.
2. Please introduce your country.
France is in the western part of Europe. France has four seasons like Korea. The weather is relatively mild and dry. You may know Paris as our capital, but there are many different cities that can be interesting to visit: Lyon for gastronomy, Lille for culture, Epernay for champagne, and Bordeaux for red wine. The cities may seem small, but the architecture is rich. You can see many fields when you travel by car or TGV (equivalent to the KTX). There are many bakeries in France. In these places, you can find different types of baguettes or buy
pains au chocolat
and croissants.
3. France is known as a country of art. Can you recommend any places where we can find France's art?
The capital city, Paris, is full of many street artists and traditional architecture. I want to recommend the Louvre Museum and the Palace of Versailles. I remember I went to the Louvre when I was a middle school student. There are about 35,000 art works. I can't forget Leonardo Da Vinci's drawings. Versailles is really nice too. It is a palace that is a typical example of baroque architecture. I hope if you have a chance to go to France, you go to these places.
4. Can you introduce France's unique custom or tradition?
In France, there are more than one thousand old castles. We can see different age castles easily. A castle tour is popular with tourists. One of the best-known tours is the Loire Castle Tour. There are castles along the Loire valley. In addition, some French people rent a castle for their weddings because of the beautiful scenery.
5. What are the cultural differences between Korea and France?
There are a lot of cultural differences between Korea and France. First, we eat for a long time in France. From appetizer to dessert, we eat everything in one place. On the other hand, most Korean people eat very fast, and it is rare to eat everything at once. Another difference is that France's transportation is not as fast as yours, and the taxi fare is expensive. However, Korea's transportation is faster, cleaner, and cheaper than ours. Lastly, I was surprised because of Korea's delivery service like food. In France, delivery is not as fast as in Korea, and we usually make food at home.
6. What made you come to Keimyung University?
I wanted to learn about game design and technology to make a game, so I found a list of universities that have a good system for game contents. Then I found that Keimyung University has a good game contents system, especially for the technology of game design. In addition, they allowed me to participate in game programming projects with my friends. Therefore, I decided to come to Keimyung University as an exchange student.
7. Which school facilities do you usually use?
I studied in the College of Media Arts and the College of Engineering, so I spent most of my time there. I usually ate lunch in Bauer Hall, and the International Lounge was a place where I met my friends. It was interested to meet friends who come from different countries.
8. How is your relationship with your Korean friends?
I met some Korean friends at Keimyung. I met them in class, through projects, and in the KMU Buddy program. They are really nice. I taught French to them, and they taught me Korean. They also introduced many Korean foods like kimchi pancake, banquet noodles, and
makgeolli
.
9. What is your dream and what is your plan when you return to France?
When I return to France I will finish my studies. After graduation, my plan is to come back to Korea, and I want to join a game company in Korea. I also want to teach students about game design and game programming technology.