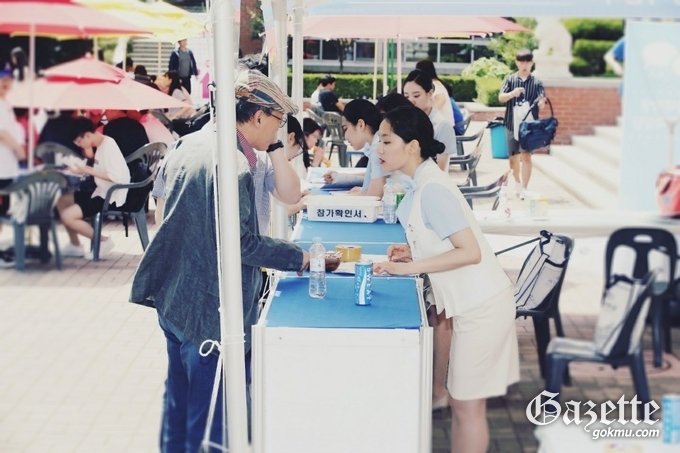 This is a picture of her in Arimi's outfit, showing people information at the 2018 College Entrance Exam Fair.
1) Can you introduce yourself?
Hello, I'm Kim Hyerin, the 28th generation of Arimi. My major is tourism management.
2) What is Arimi?
Arimi means people who promote the college, like school ambassadors. In addition, the school offers campus tours to domestic and foreign guests, introduces schools, guides and facilitates events, and models such as pictorials, news reports, and promotional videos.
3) How did you come to support Arimi?
On the day of freshman orientation, I remember I had a chance to hear the introduction of my school ambassador and other clubs. I looked around the booth and wondered what they were doing, but suddenly I was charmed by their white uniforms though I couldn't muster up my courage to introduce myself. After that, Arimi, the school's publicist, saw the introduction of the new students before the lecture and I thought without hesitation that I wanted to support her and put it into practice.
4) What was the most memorable event?
The most memorable thing was during my first-grade summer vacation. At that time, there was a Korean language and culture training camp for foreign students in the summer of 2018. The reason why I remember this event is because I was nervous to introduce my school to students from Japan and I was very interested in Japanese. I was excited to have a very simple conversation on the road if I had a chance. During the campus tour, I could have a simple conversation with Japanese students, and the atmosphere was better than I thought. At the end of the tour, the students gave me a round of applause and a small gift to express their gratitude for the wonderful tour. The day still remains a very good memory for me.
5) What do you want to say to the freshman?
There were many hard and tiring moments during test, so I want to say that I did well to everyone who had passed the difficult times. As an ambassador, I would like to sincerely welcome you who have now become students of Keimyung University and entered the university. For those who start their college life at Keimyung University, a campus with a deep history and beautiful scenery that marked the 120th anniversary of the school's opening last year, I hope that they will be filled with bright light, experience various things such as school programs and outside activities, and make good memories. You will meet many good friends at college!