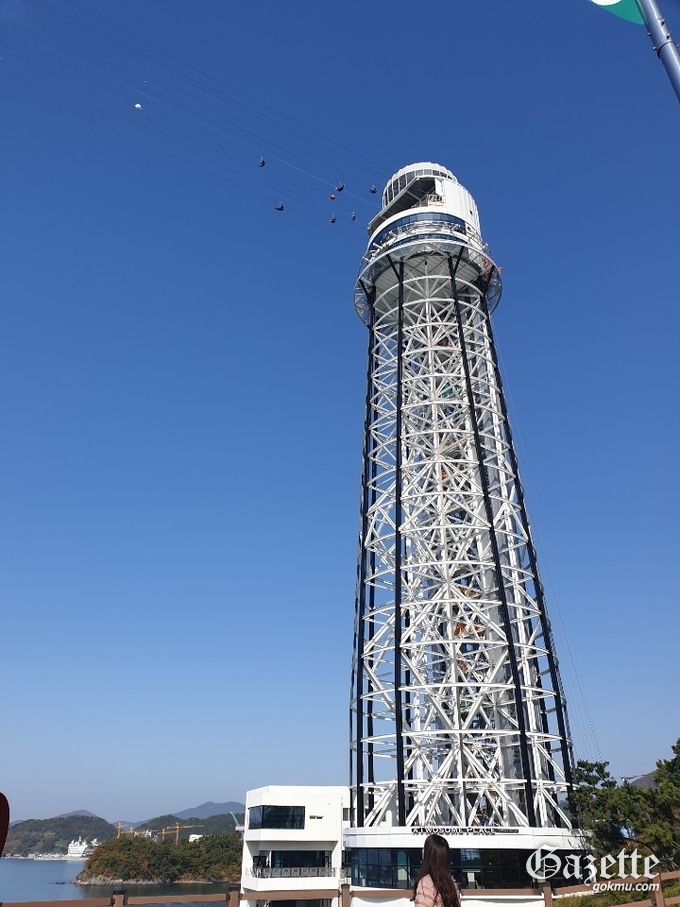 Changwon is a city located in the southeast of Gyeongsangnam-do. On July 1, 2010, it was integrated with Masan and Jinhae and has five administrative districts, making it a large city with a population of 1,046,054. To the north, the Nakdong River flows eastward and borders the city of Miryang. Changwon also borders Gimhae on the east and Haman County on the west. To the south, it meets the sea and includes Masan Bay and Jinhae Bay. There are trains and buses from Daegu to Changwon, but, as large as it is, there are only two train stations and three intercity bus terminals in Changwon. For this article, I visited Changwon and took a train from Dongdaegu Station and to Changwon Central Station.
After getting off at Changwon Central Station late in the evening, the first place you can see is the land park located in Seji-dong, Uichang-gu, Changwon. Inside the park, there is a lake that represents Changwon. The Yonggi lake is more beautiful at night than at daytime. You can ride a boat, wearing a life jacket on the lake. Also, you can watch the music fountain show from 7 p.m. to 8 p.m. and spend time with family members, and friends taking walks or taking photos. If you walk about 10 minutes from the park, you will arrive downtown and can see the Lotte Department Store. This is the largest area in Changwon and is called Sangnam-dong. There is nothing in the city that starts with a hotel and has a variety of attractions such as karaoke, PC rooms, and restaurants. It is a mysterious place that turns into a big market by day and a place that men, women and children can enjoy at night. Once you enter, make sure you don't go into a place where you cannot exit.
The second place is the Jinhae Marine Park located in Myeong-dong-ro, Jinhae-gu, Changwon. At the park, there is the Solar Tower and the 99 Tower Ziptrek. In the Ziptrek, you can enjoy straw tracks, edge work and jet boats. Ziptrek allow visitors to move rapidly between forests, valleys, land and sea. It is a strong cable connecting the departure and destination on both sides with a trolley connected to it. Passengers can ride inside the trolley and enjoy a ride at high speed. You can enjoy the beautiful scenery of Jinhae Marine Park, and feel both thrills and freedom at the same time as well as pleasure. A jetboat is a speedboat without a propeller, and can go in water with only a depth of 10cm. Feeling the speed and coolness, you can get a close look at the ocean view from a far. At the 99 Tower, Edge Walk is an experience where people can walk around the tower's 63 meter exterior wall, 94 meters above sea level. Unlike the Sky Walk in South Korea, it is installed with no-handrail, allowing users to experience maximum excitement and dizziness.

Tips to make Jinhae Ocean Park more enjoyable
-It is cheaper to buy tickets on the website than on-site
-It is better to make a reservation in advance because there may be no seats available
-https://www.cwsisul.or.kr/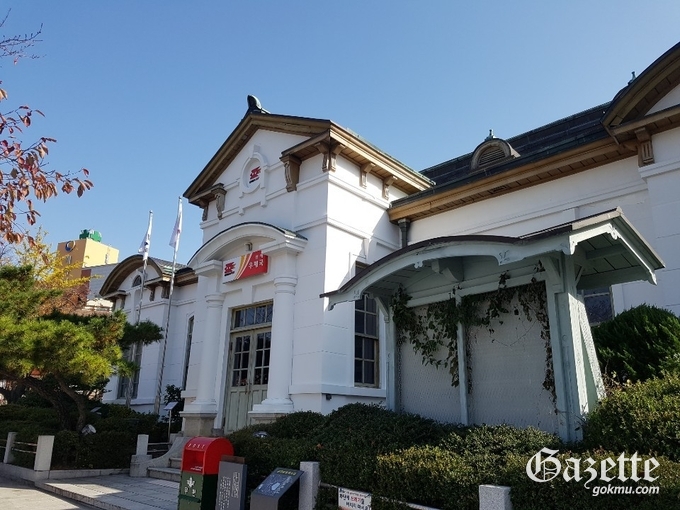 The next is place to go is Jinhae Post Office, which was built more than 100 years ago. Jinhae Post Office (Telecommunication-dong 1) is located on the left side of Jungwon Rotary. It was completed in 1912 and used as a post office until 2000. The structure is a trapezoidal wooden structure with a front door on the rotary side, which is narrow at first but widens as it enters. It's private history artifact No. 291, but it's so old that it can't be opened and used for work any longer.
For food, visitors such try the great Chinese restaurant called "One Haru." Jang Chul-hyun, a former Chinese Air Force prisoner from the Korean War, started this business in 1956 as Yeonghae-ru. Even now, the wooden sign hanging vertically on either side of the store. This is where President Syngman Lee often visited. The top of the two front signs is very old, and is the same as it was in 1956. The sign says "YOUNG HAE RU". The Jajangmyeon and sweet and sour pork were really delicious. If you take a few minutes by car, there is a cultural space for coffee, called 'Black White Dabang'. This space began in 1955 when the Western artist Yu Taek-ryeol took over "Carmen Dabang" and renamed it 'Black White Dabang' based on the magpie images. It became the centre-stage of Jinhae's culture and arts scene in the 1960s and 1970s and operated until 2008 as a love room for cultural artists It is currently being used as a concert hall, cultural space, and cafe.
Besides this, there are many things to see and experience in person as there is a long history hidden in Changwon.