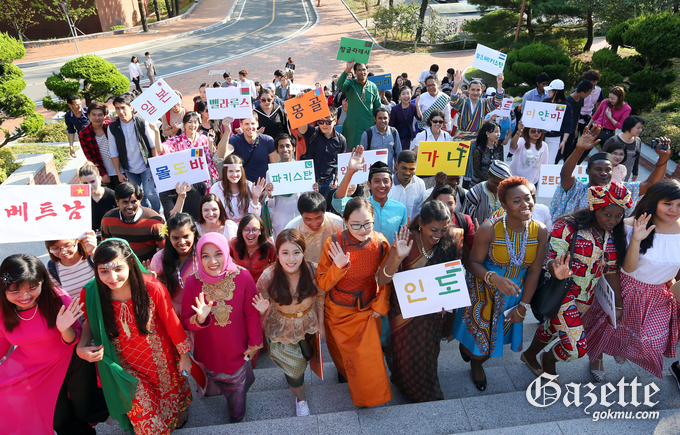 This year marks the 120th anniversary of our university. One of the ways to celebrate it was making an International Professor and Students Semester called 'InProfSS' and leading KMU's internationalization.
The foundation of Keimyung University was established by a few foreigners on an American Presbyterian mission. Now, Keimyung University has 144 foreign professors, 11 percent of its 1,294 professors. The nationalities of the international professors are various, coming from 30 countries around the world. Every major has more than one foreigner professor. There are also 2,133 foreign students on our campus, from 75 countries, accounting for about 10 percent of the student population of 23,394. This situation is uncommon in other universities.
The College of International Studies at Keimyung University was established in 1979, which was the first such college in Korea. KMU has had exchanges with 64 countries, 347 universities and 46 institutions in order to make a true multinational campus. This semester, InProfSS was created for honoring and celebrating with them.
To live up to its name, there have been various programs for foreigners to participate in and enjoy. Many of its programs have been very successful such as the Walkathon 'WALK: We Are Little Keimyung 120', in which our professors, staff members and students participated in this September. Here are some of the other great events to celebrate InProfSS.
• 2019 Korean Language and Culture Education International Conference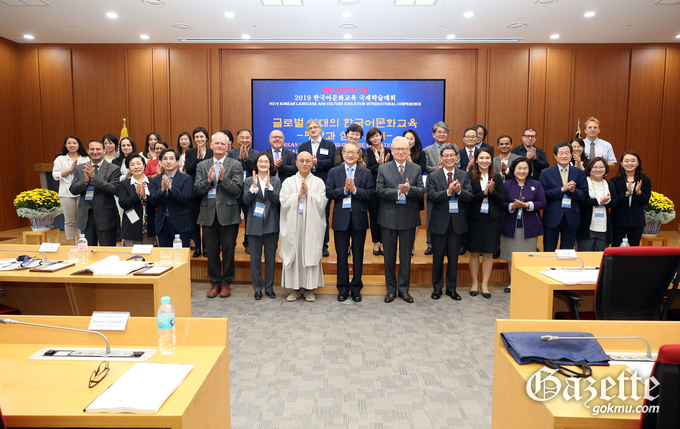 Because of the exploding interest to study Korean language and culture from other countries, there are so many foreign students in Korea. That's why this conference was held. Comprehensive subjects were discussed with names such as Study of Korean language for Korean education, Contrastive study between foreigners' native tongues and Korean language, Measure for Korean culture education abroad, Present situation and development plan for Korean education at oversea locations and Cyber Korean lectures. The conference with these subjects became one of the main sources to improve understanding about Korean language and culture education and its quality.
• International Culture Festival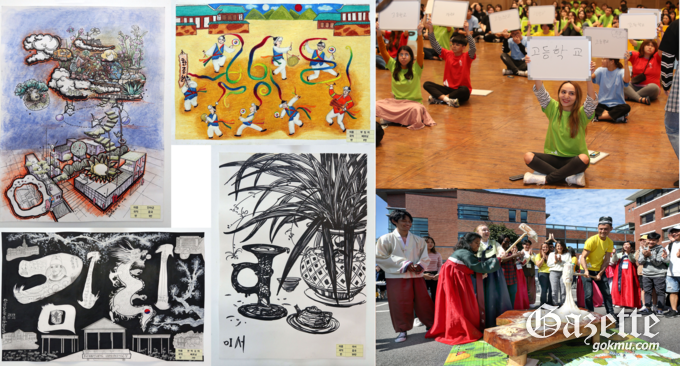 The International Culture Festival was held from October 1 to 11. 'Decorating Hangeul contest' was the first event. About 520 foreign students submitted their work over two weeks. The students wrote their names in Korean and gave shapes as a drawing. Only 19 works got prizes. Chen Ya Jun from China, studying at the Korean Language Institute, got the grand prize.
On the same day, the Korean Quiz Contest was also held. Around 600 international students and professors participated in an O/X quiz, games to explain Korean with bodies, to place Korean alphabet in order and Golden bell contest.
The Global Festival was held on October 8th at the Keimyung Art Center. About two hundred international professors and students and Korean students performed. The students introduced their traditional clothes, dances and songs from 25 countries in Asia, Europe, America and Africa.
At one of the International Culture Festival programs, many foreign students joined the International Food Day on October 10th. Students from 24 countries including Korea provided new experiences with 17 diverse booths. Students introduced their traditional dishes and cooked at each booth. Thanks to this event, lots of students tried new dishes they usually couldn't experience easily like chakalaka (grilled pork sirloin) from Africa, osh (fried rice) from Uzbekistan, and qutab (kind of dumbling) from Azerbaijan. International students paid lots of attention to an event pounding glutinous rice to experience traditional Korean food, rice cake.
On the same day as the International Food Day, a culture-art group from Minzu University of China had a performance at Haedam Concert hall on Keimyung's Seongseo campus. They showed their traditional music, dance, martial arts and face changing, a traditional art in Chinese opera during the performance.
• Trekking Event for Keimyung Family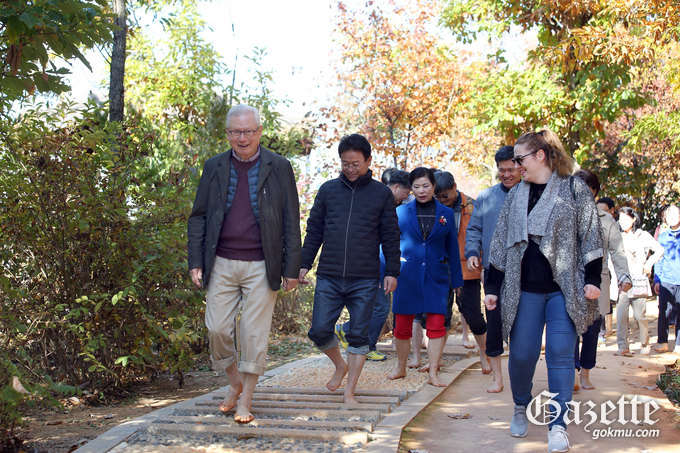 About 600 of our professors and staff members went trekking at Millennium Forest on Geommusan Mountain and Hahoe village on November 9 in Andong. The reason why the event was held in Andong, where the Provincal government of Gyeongsangbuk-do is located, is to contribute regional development as a local university. Because of this, the Gyeongsangbuk-do governor also joined this event. A few international professors attending this event expressed that they will live in and love Korea not as foreigners but as local citizens.
Foreign Professor Excellence Education Award
To enhance the sense of belonging and pride as a university member, our university rewarded five foreign professors who have extraordinary achievements in teaching and guiding students and who have contributed to the development of our university.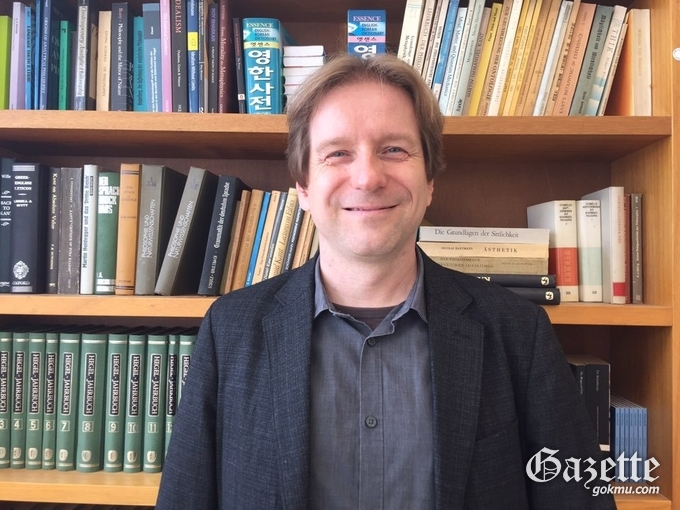 •Christian Spahn (Department of Philosophy and Ethics)
I am honored and humbled to receive this award. I like to express my deep gratitude to the philosophy department. From the beginning they made me feel welcome and have always support me and my adjustment to a life in Korea. I am lucky to be teaching at this department and to have met so many fantastic colleagues, students and new friends. It is the president's achievement to internationalize this school: may the fact that foreign professors from all parts of the world receive this honor be an inspiration for all foreign faculty members and strengthen our sense of belonging here.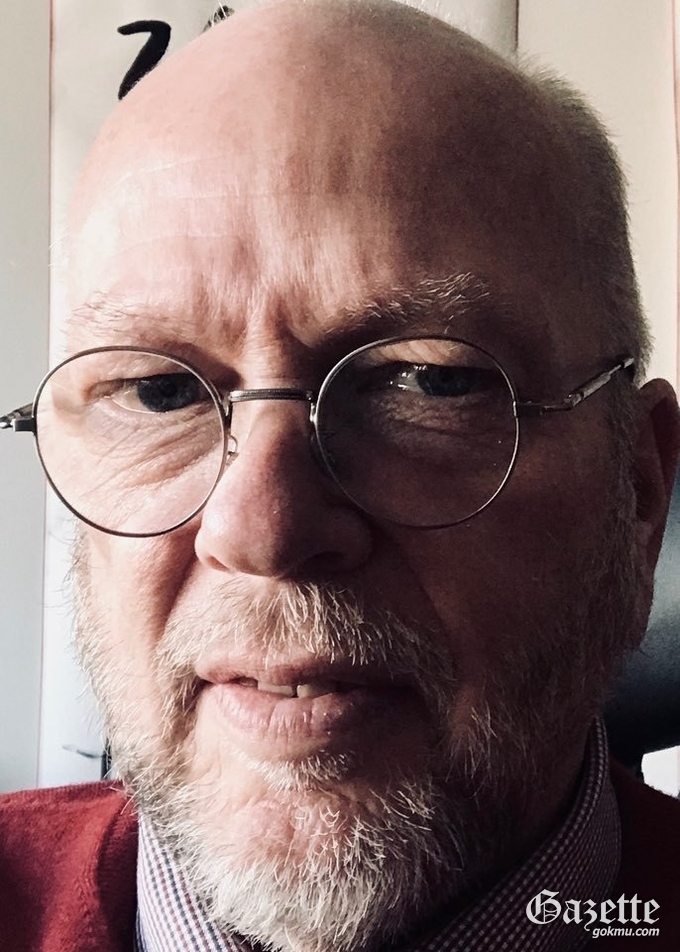 •James Bryan Pattison (Department of Police Administration)
Thanks so much for this award! I am sure that it is much more recognition than I ever deserve. But the University is extremely kind to give it to me anyway, and I am humbled by the recognition.
Actually, I am humbled also to be in the company of these wonderful professors that truly DO deserve the award. Christian, AJ, and the others are "a cut above" the others at this University and, frankly, any other University as well. KMU chose well....
The keys to success here, and I would say anywhere, are twofold: Love the students entirely in everything we do; and Love Korea for it's Wonder, Adventure, fabulous gentle Culture, and especially it's People that spread welcoming arms to honor us all more than we have a right to expect. These are the keys to professional success in a Korean University. These, and of course living with purpose, energy, delight, and, for me, Love for God.
Congratulations everybody! And thank you for this honor.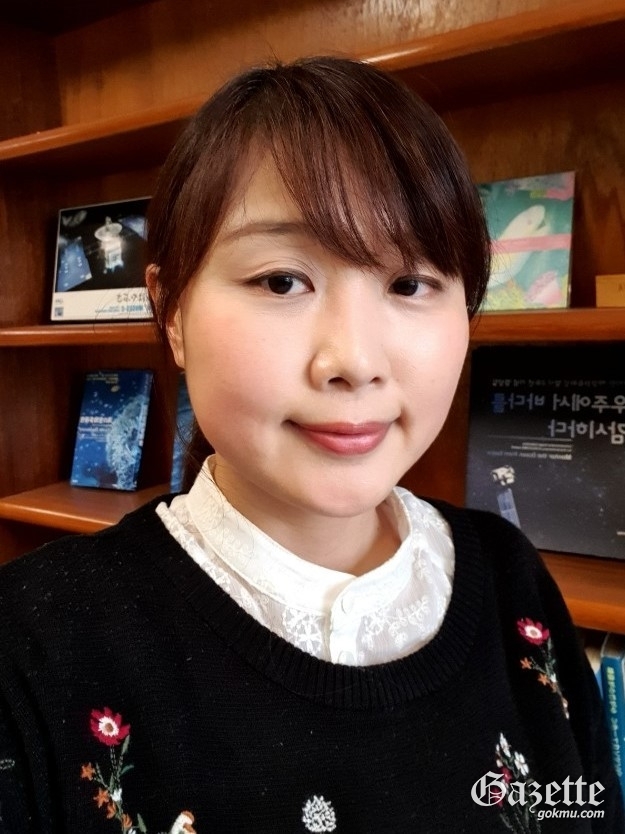 •Keiko Yamada (Major in Global Environment)
I am honored and happy to receive this Foreign Professor Excellence Education Award, and I am surprised to be chosen. I am deeply grateful to Dean of College of Natural Sciences and all of the professors in Faculty of Environment who have helped and given useful advice to me. I would like to thank my students who are interested in my courses and say that they are looking forward to every lecture. I would like to thank my husband for his support and encouragement over the years and my kids who are the source of my happiness.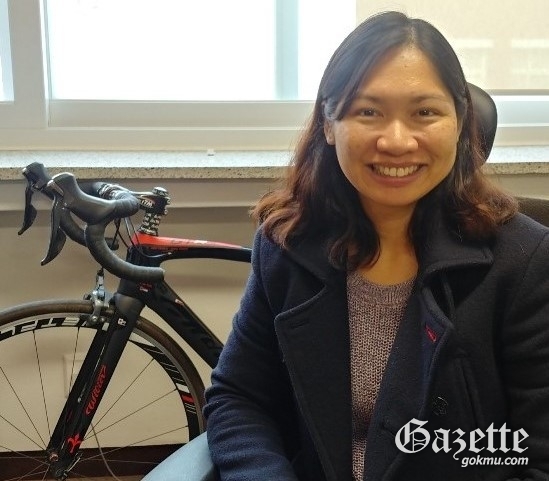 •Angelita Bautista Cruz (Major in Physical Education)
Being acknowledged for my customary duties and responsibilities as a professor is quite unexpected and heart-warming. I would like to express my deep gratitude and appreciation to Keimyung University for trusting me to part of this wonderful academic community as well as my colleagues at the College of Physical Education, particularly in the Department of Physical Education for their support and encouragement. Finally, I would like to thank all my students who took the classes I managed over the last 10 years that helped me strive even further and become a more mindful educator.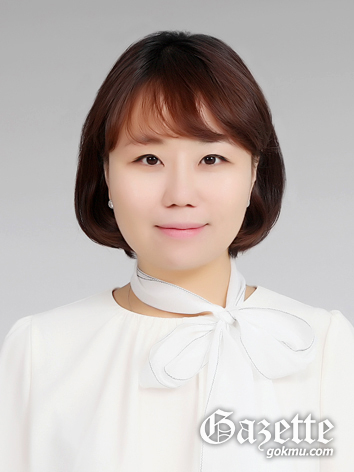 •Simmyung Yook (Department of Pharmaceutics)
I would like to thank the Faculty Affairs Team of Keimyung University for the Excellence in Education Award. It is such an honor to be selected as the award winner. Many professors, students and staffs have strived to do their best in order to be part of this school and I believed they represent the true spirit of our school: "Opening the Light to the World". I am very grateful for their contribution, teaching and guiding students who well deserve the academic success. I am so grateful to work with such an incredible groups of people and being part of this Keimyung family.
As an award winner, I will continue to pursuit the dignity of work and the excellence in education to meet our school's core value.
Thank you

Congraturations.