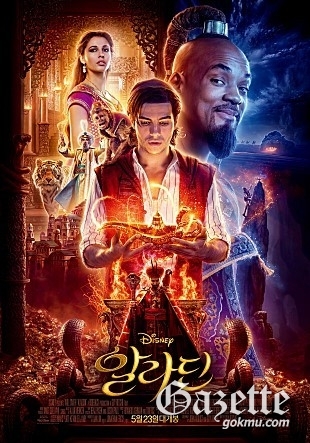 Director : Guy Ritchie
Genre : Adventure
Running time : 128 minutes
Have you ever heard the story about a genie in a magic lamp? Did you see the original Aladdin story? Aladdin has come back to movies on May 23, 2019. The adventure in the original animation is brought to life in the new version using real actors to portray the characters and computer graphics to support the live action.
This story is set in the Kingdom of Agrabah. A petty thief Aladdin tries to find a magic lamp at the request of Jafar. While retrieving the lamp for Jafar, he meets Genie who grants his owner's wishes. Aladdin makes a wish to win princess's heart.
It is interesting to find the differences between the movie and the animation. In the original, Jasmine wants to get married to someone she loves instead of a suitor chosen by the sultan. But in the live-action movie, Jasmin believes a woman can also become a sultan and can govern a country. The story has been upgraded to respond to the trend of the times. This shows Disney's propensity to reflect changing social trends as being progressive.
The movie is very popular for many reasons. First, Will Smith plays the role of the genie and is very talented. Second, the movie has great songs. 'A Whole New World' and 'Speechless' occupy high rank in music charts. You should all look Walt Disney's live action movie. It can be the most exciting movie in this summer.