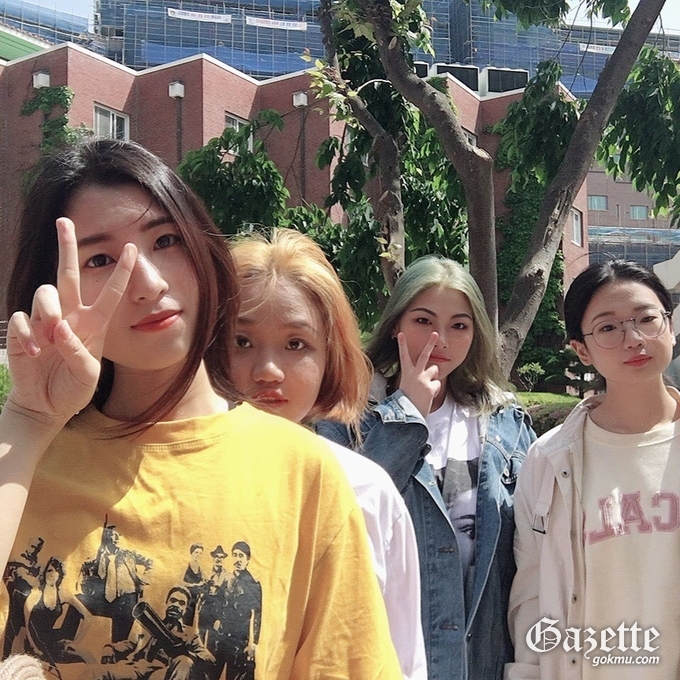 Songxuewei, Zhanghuiyun, Liuan and Gaiwenjun , Chinese exchange students who are studying in KMU

Here are some Chinese exchange students who love Korean history. I have heard about them from my friend who listens to a Korean history lecture and I asked her to introduce them. I wondered why they are interested in Korean history and wanted to hear the stories about their lives in Korea.

1) Please introduce yourselves.
Hello, we're exchange students from China. We are freshmen who are majoring in tourism management, international commerce, and e-trade in Keimyung University.

2) What are your original majors in your universities in China?
All of our majors are Korean in China. The reasons why we major in Korean are that we thought Korean language is attractive in the way that it sounds smooth and simple to use compared with Chinese.

3) Is there any motivation for learning Korean history?
As you know, our original majors are Korean so we were exposed to Korean history naturally, too. Historical Korean dramas also affected our interests in history.

4) What do you think about Korea's history?
We think that Korean history is similar with Chinese history because Korean language used Chinese characters in the past, and Korea is close to China geographically.

5) Are there any parts of Korean history that you like or don't like?
That's a little bit difficult question for us. Actually, this is the first time to learn about Korean history, so there are some difficulties to understand and organize. We are trying to study hard now. If we can be proficient in Korean history, we will tell you about them next time.

6) Do you have any difficulty in living Korea?
There are some difficulties because we are not very good at using Korean to communicate with Korean students. And we think that is the reason why Korean students can't become closer to us. We really want to make many Korean friends.

7) What do you want to experience in Korea?
We want to go to Namsan Tower in Seoul and go to our favorite singers' concerts such as EXO and GD.

8) What are you going to do after your graduations?
If we graduate, we want to become Korean teachers and interpreters of Korean in China.