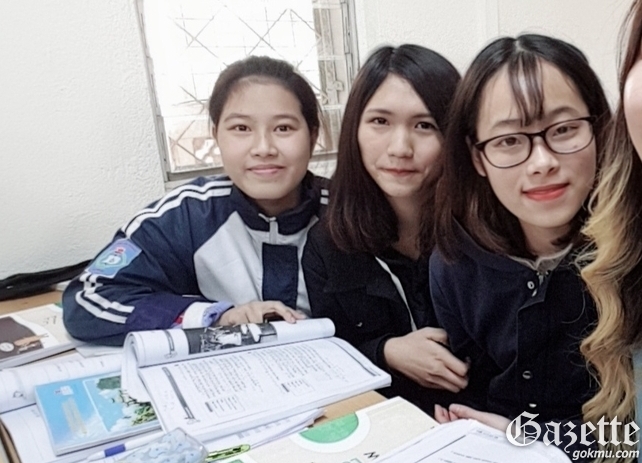 ● Trần Trang, Trương Mỹ Chi, Hoàng Uyên of University of Languages and International studies - Vietnam National University

Our newpapers reporters went to Hanoi and Halong Bay in Vietnam lastw inter vacation. During the trip, we sawso much Korean language on the streets it felt like Korea. At that time, we guessed the Korean wave has been sweeping Vietnam, so we visited a Vietnamese university to meet Vietnameses tudents. Many students are interested in Korean and quite a few have already started to learn Korean.
1. Please introduce yourselves.
Hi, we are Vietnamese students majoring in Korean Language at University of Languages and International studies Vietnam National University. We have been studying Korean language for about four months.
2. Please tell me about the Vietnamese university system.
Vietnamese students start their campus at 18. In my university, most students study for about a year and then move to Vietnam National University and study their majors with students with other majors like economic, business, or literature for about three years.
3. Why did you decide to learn Korean?
We all experienced K-pop for the first time on YouTube. After that, we started to liste to K-pop and wathced K-dramas. Actually, many Korean dramas are found easily on Vietnamese TV. Most of them use dubbing not subtitles. The quality is bad, so many people look for the original versions. That's why we have become interested in Korean language and culture naturally.
4. What is most difficult about learning Korea?
Everything but especially grammar.T he word order is different between Korean and Vietnamese, so that's hard. The professors told us the different word order can be understood with Vietnamese style for Korean conversations. However, we have to ignore Vietnamese style for correct and accurate learning.
5. What do you want to do after university?
I plan to study abroad in Korea for atl east half of a semester, and then I wantt o be an interpreter in Vietnam. There are a lot of Korean people and various Korean companies here. Lots of Korean and Vietnamese companies need interpreters, so the future is bright.