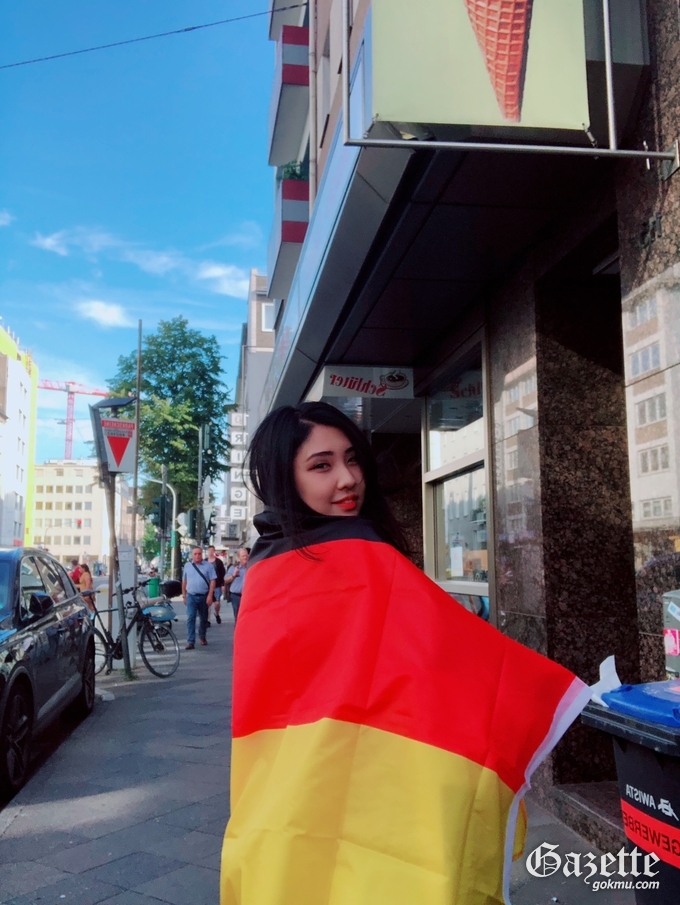 Park Ji-hyun and she wrapped the German flag around her body.
Keimyung University recruited exchange students for three weeks in August. The applicants who are accepted will be exchange students next semester. I interviewed a student who had been an exchange student in Germany to help KMU students. It's good to hear from an exchange student before becoming one.
1) Please Introduce yourself.
Hi. I am Ji Hyun Park. My major is International Business in KAC. I studied at Hochshule Dusseldorf in Germany as an exchange student from September 2017 to August 2018.
2) What was your motivation to apply for an exchange student?
I had never lived in a foreign country, and I had always wanted to live in a foreign country since I was young. After entering university, I naturally became interested in the exchange student program after seeing most of my seniors become exchange students. Through this, I wanted to experience life abroad and decided to become an exchange student.
3) Why did you choose Germany?
Among the various reasons, there were high standards of English skills in Germany. I didn't have a problem living in Germany for a year without knowing German. Another reason is that I wanted to feel the national character of Germany. I thought I would learn a lot because Germany has high standards in politics, economics, culture and so on. I also wanted to experience some differences from my own country.
4) Are there any prejudices against Korea in Germany?
I think not only Germans but also Europeans have prejudice against Asians. Sadly, many people think Asian women are shy and passive. But, when I stayed and talked with Germans, such prejudice naturally disappeared. So, don't worry about that.
5) What are the cultural differences between Germany and Korea?
The first thing that comes to mind is that most shops in Germany close on Sunday. It was especially inconvenient at first because the grocery shop was closed, so I went shopping on Saturday. Also, Germans don't mind showing a lot of skin in public, unlike Korea. At first, I was a little surprised to see people sun tanning in a bikini in the park. But after spending the winter in Germany, I could see why people shed their clothes and get as much sun as possible. The winter in Europe is really gloomy, so you cannot see the sun well. Finally, administrative processes like government offices are really slow. In Korea, it seems that things take a day or a week, but in Germany, it will take almost three months or maybe more. If Korea has a fast culture, Germany has a slow culture.
6) Do you have any tips for future exchange students?
If you get an exchange student visa in Germany, go to the visa office immediately and catch 'termin'. As I said above, because the administrative process is slow, you have to go quickly to get a 'termin' date. The best thing to do in Korea is to open a Kakao Bank account. As the overseas remittance charge is only 5,000 won, I recommend you make it before going to Germany.
7) Please give me some advice for students at Keimyung University who want to become exchange students.
As it is a foreign country, there will be lonely times and difficult moments for anyone. But if you hang in there a little bit and adapt, there will be so many new and varied experiences waiting! If you have any questions, feel free to contact me at bgbh123@naver.com.