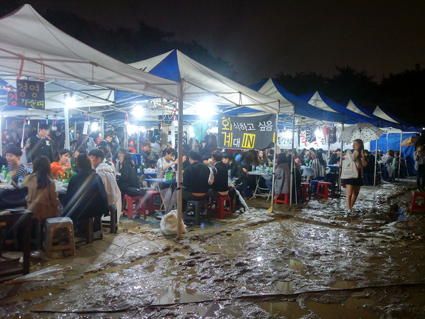 From May 10 to 12, a festival called Bisa Daedong Festival was held at Keimyung University. The festival was held at the small field until 11 P.M. KMU students should have been satisfied with the festival since it is held for them and by them. However, when I asked students about the festival after it finished, there were many inconveniences and complaints.
First, the students didn't have enough time to enjoy the festival. Ending the festival at 11 P.M. is too early for them. Putting off the ending time to at least 12 A.M. would be better. Also, canceling all classes during the festival is a way for everyone to enjoy the festival. Students can't participate in afternoon events because they have classes. Since there are too many people, students should go there early to get seats. But when they go to the festival after their classes finish, there are no seats left. Moreover, students who have evening classes get disturbed by the noises outside.
Second, promoting the KMU festival is not done well. The number of students from other universities who attend KMU's festival is small compared with other universities' festivals. This is because promotion is bad. At the festival last semester, each department sold food and drinks in the evening. This is insufficient for KMU and other students to enjoy. To help students have more fun, other activities besides food tents should be prepared. Also more popular singers should be invited. Students usually choose a festival to go to according to the invited singers. Because of this, inviting popular singers can be an effective way of promoting KMU's festival.
Third, a larger space should be used. The last festival was held on a small field. The small field is too limited to accommodate many people. To make matters worse, on the first day of the festival it rained a lot, and the ground turned into mud. That made it very hard to walk for students. Some students got their shoes and socks wet, so they walked in their bare feet. It was dangerous because their feet could have been hurt. Also, since a stage for the singers needed electric wires, the rain could have caused students to be shocked by electricity. For students' safety, wider spaces such as the Amphitheater and Main Field should be used.
Because of these things, students complained about the festival. New students in particular had great anticipation for the festival, but they were disappointed. When these problems are addressed, students will be able to enjoy a better festival. Students hope the university will listen carefully to their opinions.